Exclusive
For Better Or Worse' Star Tasha Smith Dismisses Show Critics, Says Portrayal Of Rich & Successful Characters Is Necessary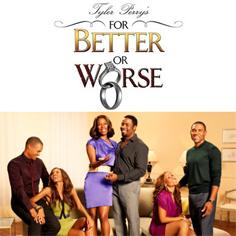 Tyler Perry's hit show For Better or Worse has faced backlash from critics who say that the luxurious lifestyles portrayed on the show are not realistic but the cast members are hitting back and say that they believe their characters are "positive images."
Tasha Smith, who plays the lead Angela Williams, said they have high expectations for the show that has moved to OWN.
"We know that images inspire and provoke people to dream to pursue their dreams to believe in themselves," she told Tanya Hart from American Urban Radio at a press conference at the OWN studio about the show portraying wealthy and successful people.
Article continues below advertisement
"So I feel us as African American people, it's important for us to be able to put positive images on the screen that our daughters, our granddaughters and our children to come will be inspired by."
Playing a role in the ensemble cast that shows business owners and beautiful homes sends a good message to young people Tasha explained, "so that they can pursue a dream and believe that it can come true regardless of what obstacles are in front of them, regardless of the economy.
"As African American people we probably spend enough money in one year to probably buy CBS!" she exclaimed and said she was so proud to work with Tyler Perry because of the strong characters he has written for them.
"For them to come together and do this and for all of the characters to be smart, educated, beautiful, I feel it's much needed because we've seen enough negative images of ourselves that may have discouraged that young black man or that young black woman."
Article continues below advertisement
Tasha said that she believes the positive portrayals are necessary on television.
"It's important for us to do this. It's important for us to stay smart, to stay social to say current, relevant, political if we need to be, spiritual if we need to be.
"Anything that is going to empower that race of young people that's coming behind us to live a great life because they really are our future. So we're honored and blessed."
For Better or Worse premieres on Wednesday, September 18 on OWN with all new episodes at 9/8c.