'Teen Mom 3' Star Briana DeJesus' Baby Daddy Arrested For Drug Possession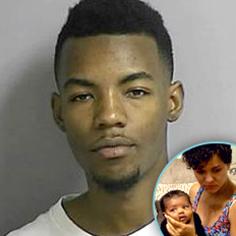 A new season of Teen Mom, new arrests.
Teen Mom 3 star Briana DeJesus' baby daddy, Devoin Austin II was arrested over Labor Day weekend for possession of drugs, possession of drug paraphernalia, burglarizing and contributing to the delinquency of a minor, RadarOnline.com is reporting.
According to the police report, Austin was arrested in Kissimmee, Fla. and was held on $5,000 bond.
DeJesus posted a TweetPic of his arrest and mug shot after the arrest with the caption:
Article continues below advertisement
"This is why I'm over protective when it come to MY* child, ill be damned if she knew what jail even meant!"
As RadarOnline.com exclusively reported in June, Austin — who is the father of DeJesus' daughter Nova Star — was busted on March 21 for possession of marijuana under 20 grams and plead guilty to the charge, receiving one year of county supervised probation and one day in jail.
Last year the MTV bad boy was also charged with possession of cannabis when police caught him smoking marijuana in a car with a friend.
Officers discovered 4.2 grams of weed in the car and then went on to find 2.8 more grams in the backpack of Austin's friend. The friend also had a scale.
Austin's friend was arrested for possession with intent to sell — and Austin was charged with possession of cannabis — But the state dropped Austin's charges in September 2012.