Bottoms Up! Reese Witherspoon Drinks Wine At Lunch & Drives Away After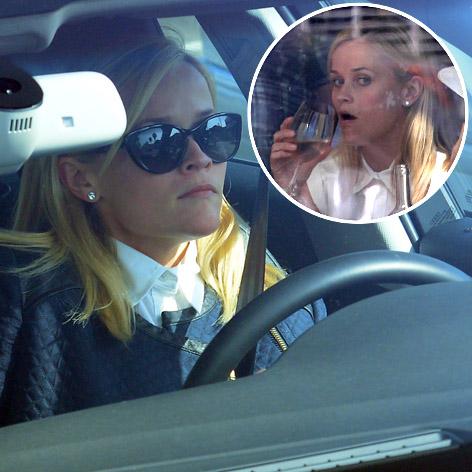 Is Reese Witherspoon auditioning to be a Real Housewife? The A-list actress was spotted enjoying a glass of wine at lunch and RadarOnline.com has the photos of her enjoying a drink and then getting in her car and driving home.
The 37-year-old mother of three met up with a few girlfriends at her favorite restaurant, the tony Gjelina in Venice, Ca., where she was snapped drinking from a glass of what appeared to be white wine.
Article continues below advertisement
Wearing a cute white blouse with a pointy collar, Reese was all smiles during the wine fueled meal.
After the lunch Reese donned a stylish black jacket and headed back to her car, driving away from the restaurant.
Reese was arrested this summer for disorderly conduct for sassing a police officer while her husband, Jim Toth, was arrested for DUI. She pleaded no contest to the charges, where she was captured on video asking the police officer "Do you know my name? You're about to find out who I am … you're about to be on national news."
After the incident Reese confessed that she was embarrassed about the night, saying: "I think we made a mistake, and it's something that absolutely will never happen again," she said. "Just bad judgment … I had no idea what I was thinking that night. I saw him arrest my husband and I just panicked. I said all kinds of crazy things to the officer."