Exclusive
RHONJ Bloody Brawl Legal Battle Is NOT Over – Civil Lawsuit Coming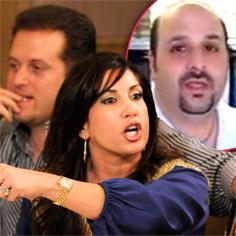 The bloody brawl that wasn't aired on the Real Housewives of New Jersey season finale isn't a situation that is going to go away anytime soon because RadarOnline.com has exclusively learned that a civil lawsuit is about to be filed that will drag in not only the cast members but Bravo, NBC, the production company and many others.
The fight that was captured by Bravo cameras but not aired on Sunday, September 2,9 was a melee between Jacqueline and Chris Laurita, Joe Gorga and Johnny Karagiorgis, with punches thrown, glasses broken and a lot of blood everywhere.
Article continues below advertisement
All four people involved in the fracas filed charges but the case was dismissed last week in a New Jersey court, however, the legal troubles are far from over.
"Johnny plans to file civil charges against every – all three of the people from the show, Bravo, NBC, the production company and the security teams that didn't stop the physical violence from happening," a source close to the situation told RadarOnline.com.
"He's also planning to sue Kim D individually, Moxie Salon and the Moxie twins."
According to the source, Karagiorgis has been complaining that the fight was pre-planned by people on the show, including the producers.
"Johnny says they all knew the altercation is going to happen, the salon owners were telling clients Johnny was coming to the event and there was going to be an altercation, there is going to be action.
"He believes everything is a big conspiracy and this was planned and orchestrated weeks in advance."
The footage of the brawl never aired on Bravo, and the source said that doesn't affect the case.
"Johnny is going to go forward with civil cases against as many people as he can to fight this and make sure that the people involved all pay."