Exclusive
Paula Deen Mocked In 'Butter' Comic Book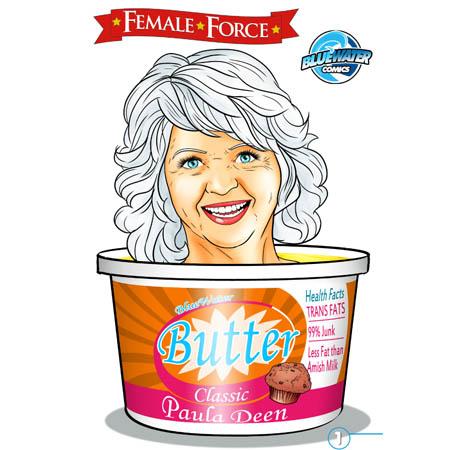 Article continues below advertisement
This summer it was revealed through a videotaped deposition that Deen in fact admitted to using the N-word — but the sexual and discrimination lawsuit was dismissed in August, with assumptions a settlement was reached.
"Under the greatest scrutiny, many of our heroes let us down, but we also believe in the power of redemption. In all biographies there are chapters full of great accomplishments and those full of challenges. I believe Ms. Deen's story is not yet completely written," publisher Darren G. Davis told RadarOnline.com.
"We wanted to showcase the strong women in today's society that have inspired generations and shaped the culture of today… We do not condone her use of racial insensitivities, and think that intolerance has no place in a just society. But despite her recent failings, we also strongly believe she still has a powerful story to tell; one that fits the female empowerment model of our books."
Writer Michael Troy tells RadarOnline.com that Deen is just one of many women who will be featured in their 'Female Force' line.
"Paula Deen is still an inspirational woman who has suffered much adversity in her life and overcome many obstacles," he said. "Her story is fascinating and it's easy to see why Bluewater would consider her for their Female Force line of Biography comic books that on powerful women."
The Paula Deen comic book will be available on September 18, but click here insert link to gallery for a preview!