Exclusive
She's Got Him By The Bubles… Crooner Michael Buble Caught In X-Rated Sex Snaps Shock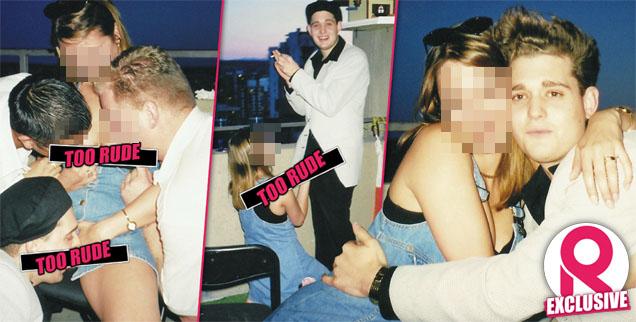 Article continues below advertisement
In another X-rated shot, the three-time Grammy Award-winner is posing provocatively between the woman's legs as two of his friends focus their attention on the her exposed breasts.
Another image shows the "Come Fly With Me" performer with his face buried in her cleavage.
A friend told how cheering pals encouraged the singer to get his hands on the shapely beauty after a booze cruise in the Canadian city of Vancouver.
The source recalled the orgiastic sex party, telling Radar: "Michael had split with a girlfriend a few months earlier and he went on a bit of a tear-up. He was nursing a broken heart.
"When we returned to this apartment things got out of hand. It stunned all of us at the time but then we started laughing. There was a lot of whistling and hooting."
Said the witness: "There was no shame about it. Everyone even allowed photos to be taken!"
Article continues below advertisement
Buble — now married — has since become one of the world's best-selling artists thanks to his brand of big band music.
He became a proud dad last month when his Argentinian model wife Luisana Lopilato, 26, gave birth to their son Noah.
Bizarrely, Buble was snapped with a mini padlock on his fly as he stepped out in New York earlier this month -- and later joked he was keeping his family jewels under lock and key because of his wife.
Joking about that stunt -- it led to veteran television icon Barbara Walters, 83, declaring she wanted the key to Buble's pants -- the pal said: "Clearly his genitals have not always been under lock and key!"
"These photos are the exact opposite of the image that he has portrayed publicly for years," the pal added.
"Michael has always been a ladies' man. Prior to getting married to Luisana, he even dated a couple of strippers!"
Article continues below advertisement
The star has previously admitted that he hated the image forced upon him by record bosses — and that he likes to party and smoke marijuana.
Buble once confessed: "I grew up in Vancouver, which has the best weed in the world. I don't see anything wrong with relaxing with a joint."
Soon after the racy photos were snapped, he managed to get his love life back on track, moving on to have relationships with singer and actress Debbie Timuss, Emily Blunt and Heather Fogarty, before marrying wife Luisana in 2011.
The friend told Radar: "I bet Michael has parked this memory in the back of his mind and hoped for years that the photos never emerged publicly."