Exclusive
Tammy Lynn Michaels Says She Has 'Rotten Ovary & Rupturing Cysts' After Complaining Of No Insurance Despite Huge Settlement With Ex Melissa Etheridge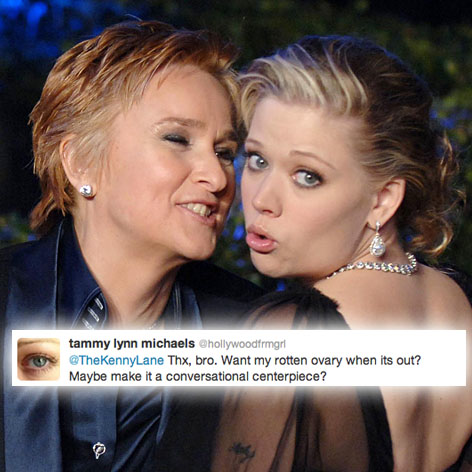 Tammy Lynn Michaels, meet TMI.
Melissa Etheridge's ex-partner and mother to their two kids, decided to offer more details to her followers after complaining about health and financial problems.
As RadarOnline.com exclusively reported, Michaels went public Saturday with the claim that she is $500,000 in debt and has no health insurance but needed surgery because her insides were "exploding."
This despite the fact that she receives $26,000 a month in spousal and child support and half of Etheridge's music royalties, which at the time of their settlement 15 months ago, put another $60,000 a month in Tammy's pocket.
Article continues below advertisement
Her troubles, Michaels says, include "continuous ovarian cysts that rupture, and an appendix that seems to be having fits." She also offered a supporter a souvenir of her upcoming surgery.
"Want my rotten ovary when its out? Maybe make it a conversational centerpiece?"
Michaels and Etheridge, who were registered as domestic partners in California before their split, continue to battle over custody issues and were in court as recently as last month.
The singer hasn't commented publicly on her ex's bizarre revelations, but Michaels pulled down her Twitter page Sunday, maybe deciding to keep a few things to herself?