Mac-11, A High Powered Machine Gun, Found Stashed In Closet At New York's JFK Airport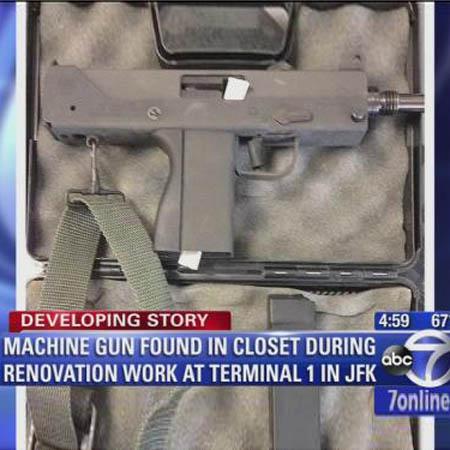 An electrician working at New York's JFK airport happened upon a high-powered machine gun identified as a Mac-11, in an international terminal used for by Air France, Turkish Airlines, Korean Air and others, RadarOnline.com has learned.
The weapon -- capable of emptying a 32-round in under two seconds -- was hidden inside the ceiling of a maintenance closet, police said, adding that authorities with the Port Authority were investigating, but "not even slightly" worried the firearm could be a pawn in a larger terror plot.
Article continues below advertisement
Watch the video on RadarOnline.com
No ammunition was inside the gun, officials said, adding that the maintenance closet it was recovered from "is locked and accessible only to a few people" and "located OUTSIDE the terminal's secure area."