Exclusive
That's Rotten! Angry Shopper Throws Eggs At Lisa Vanderpump In Grocery Store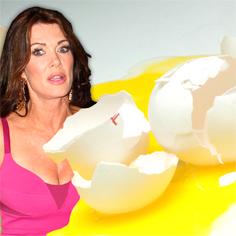 Duck! Real Housewives of Beverly Hills vixen Lisa Vanderpump has a rotten experience in a grocery store recently when an unhappy fan hurled eggs at her and RadarOnline.com has all of the exclusive details.
"Lisa and Ken were shopping at Pavilions and someone who really hates her saw her and decided to throw eggs at her," a source close to the situation revealed.
"She was so rude and didn't even acknowledge the cashier or anything," they said about Vanderpump's interactions with the West Hollywood store employee.
Article continues below advertisement
Ken refused help with bagging his groceries the source said, and was standing at the end of the line putting only two or three items into the six paper bags (not recyclable!) when another customer tossed the eggs at his wife.
"A girl threw two eggs at Lisa! They totally missed her but that girl didn't care. She wanted to make a point to Lisa that she isn't welcome in West Hollywood."
As RadarOnline.com previously reported, Vanderpump and Todd are locked in a nasty legal battle over property across the street from the grocery store and the source said the person who threw the eggs is outraged over their proposed new hotspot P.U.M.P.
"People in the store were shocked, but this girl was really pissed!"