Exclusive
'Real Housewives Of Beverly Hills' Star Lisa Vanderpump Claims Former BFF Brandi Glanville Is Out To Get Her!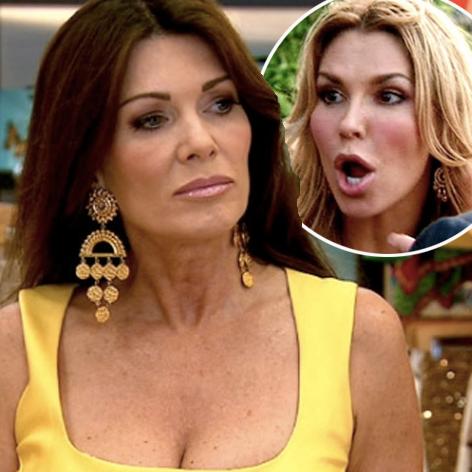 Article continues below advertisement
"Brandi has made no secret about how jealous she is of Lisa's over the top lifestyle, beautiful mansion and happy marriage…she is now out to make Lisa look bad in hopes that she will get more camera time. It's all about Brandi, 24/7, and sadly, Lisa is now recognizing that."
It's the latest salvo in the ongoing bitter feud between Vanderpump and Glanville.
As RadarOnline.com previously reported, Glanville recently accused Vanderpump of using her to get publicity for one of ex-husband's mistresses.
According to RadarOnline.com's insider, "Brandi knew that viewers were growing tired of her constant moaning about the fact Eddie cheated on her withLeAnn Rimes. She was beginning to sound like a broken record. So, Brandi obviously made a decision to try and make Lisa look bad in front of the cameras."
Glanville recently wrote a column for Australian NW Magazine and revealed, "I found out some unsettling things about her using me to get this Scheana girl, the girl Eddie cheated on me with, publicity."
Article continues below advertisement
"I thought I had done my part by talking to her Scheana in the first place," Glanville wrote and said she was helping her RHOBH co-star get her spin-off, Vanderpump Rules.
"I wanted Lisa to get her show. But then to find out Lisa is like her second mother and there are plans to help her Scheana get a spin-off show?"
"I really trusted Lisa," she revealed. "I'll always love her, but I want an apology. I feel like I was becoming her sidekick and I needed to find me again."
Meanwhile, Lisa "just couldn't believe that Brandi has gone so public with the troubles in their friendship. Writing a magazine column about it, really? Not very classy. Brandi is a foul-mouthed, low class wannabe," the insider added.
"Lisa's family had warned her about Brandi, but she always sees the good in people, and chose not to listen to them. She has no regrets, but don't expect to see them being friends ever again. Once you cross Lisa once, you are cut-off from her world," the source concluded. "This betrayal offended Brandi, who said that she was hurt by the actions."