90210 Split! Brandi Glanville Admits She & Lisa Vanderpump 'Having A Bump In Our Road'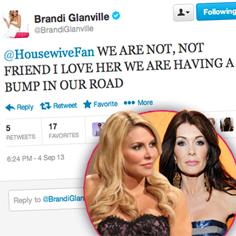 Article continues below advertisement
"WE ARE NOT, NOT FRIEND I LOVE HER WE ARE HAVING A BUMP IN OUR ROAD," Brandi wrote to her fans.
Brandi and Lisa got into an epic fight in Puerto Rico which is when they stopped speaking.
Although they were together at an event this week, and despite what Brandi wrote, their friendship is far from chummy.
"Brandi and Lisa looked really uncomfortable in each other's presence," the insider told RadarOnline.com of their August 3 dinner.
"They put on smiles for the cameras, but it was all for show. You could cut the tension with a knife."