Exclusive
'The Michael Jackson Of Mexico': Liam Hemsworth's New GF Eiza Gonzalez Accused Of Being 'Addicted To Plastic Surgery'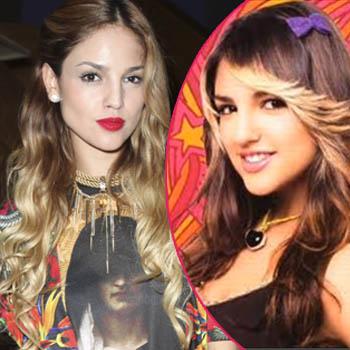 Liam Hemsworth has already rebounded from Miley Cyrus with sexy Mexican actress and singer Eiza Gonzalez. But would she have had a shot with him just a few years ago? Her new, polished look is a change from the funky style that made her famous in her home country, and her fans have long been critical about her choice to undergo plastic surgery as she attempts to cross over to the American market.
Known as the "Michael Jackson of Mexico" on social networks, Gonzalez came under fire again this week after stepping out with Liam.
Article continues below advertisement
"At least Miley has natural beauty, unlike Eiza Gonzalez, who was born in the plastic surgeon's clinic!" user @Lidelirious wrote.
Several other users retweeted a post that read, "Eiza Gonzalez goes into surgery like a fat person with a sausage sandwich."
And last year, Mexican Twitter users widely circulated a Tweet that read, "For everyone who misses Michael Jackson, just remember that Eiza Gonzalez is one procedure away from looking like him."
Several others retweeted a link to an article called "Young, Famous, Addicted to Surgery!" which featured Gonzalez.
Things got so bad, that the actress took to Twitter to defend herself.
"The truth is, it's such a shame that they make up such things, they have a lot of imagination," she wrote last year. "Tomorrow they're going to say that I got liposuction!"
"The one thing that I had operated on, and I say it and I'm not going to hide it, is my nose," she admitted. "And you can go ask López Infante her plastic surgeon if he's done anything else to me! …I'm not going to talk about this again! Whoever wants to believe that I've changed my face, whatever! I'm content and happy, kisses!"
She continued, "Because I'm focused on work and I don't give them anything to make fun of me about, they invent things. I'm super focused on my CD and more!"
Gonzalez had her big break here in America when she was spotted making out with Liam after his split from Miley was announced earlier this week.