Lamar Odom's BIG Problem: In A Race Against Time To Hire DUI Lawyer… Because He Hasn't Even Spoken To Robert Shapiro!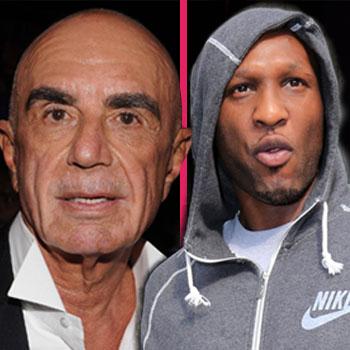 Lamar Odom -- or his lawyer -- has to appear before a judge on Friday for his DUI arraignment, but there's a major problem lurking for the two-time NBA championship star and he's in a race against time to fix it.
Odom, 33, has not retained a lawyer, despite reports that famed lawyer Robert Shapiro is representing him.
In fact, RadarOnline.com has learned, the man who represented O.J. Simpson in the "trial of the century" -- the slayings of Nicole Brown Simpson and Ron Goldman -- hasn't even spoken to Odom… not even once!
Article continues below advertisement
"Robert (Shapiro) hasn't talked to Lamar since he got his DUI arrest, or been retained to represent him," a source close to the case told Radar.
"There has been zero communication between Robert and Lamar. Robert was hired by Lamar's mother-in-law, Kris Jenner, after his arrest. The lawyer has been in touch with Khloe, but still hasn't spoken to Lamar.
"Lamar knows Robert -- and he respects him -- but it doesn't change the fact that he hasn't been hired."
It's not known if Odom has secretly hired his own attorney, or is planning to represent himself.
"Who knows?" added the source. "Friday will be interesting."
The drug-troubled NBA star — who has been dealing with addiction issues and a troubled marriage with his reality television star wife Khloe Kardashian — was busted in the early morning hours of Aug. 30 for allegedly driving under the influence.
There have been reports that an arrest warrant could be issued for Odom if he fails to appear in court on Friday -- ironically, his fourth wedding anniversary with the E! reality star.
Our source described that as "premature," because "Lamar could easily hire an attorney at the last minute to appear on his behalf.
"Likewise, Lamar could appear, but that doesn't seem likely."