Kimsanity! Kim Kardashian & Kanye West Take Over Paris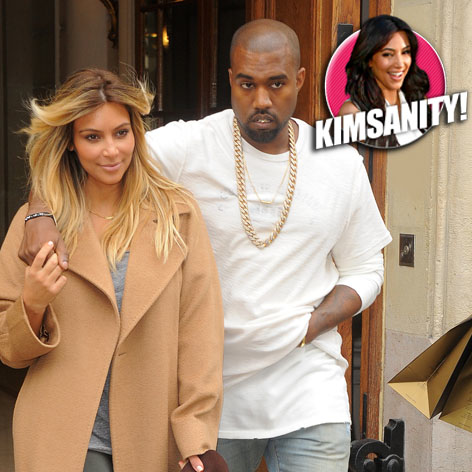 Kim Kardashian and Kanye West landed in Paris Saturday morning and Fashion Week in the French capital may never be the same.
All eyes, and apparently every photographer, in Paris were on the new parents while famed designers were being overlooked.
It appears the couple may have left daughter North at home. Perhaps grandma Kris Jenner was left in charge of their prized spawn.
The pair looked especially happy as they checked into their luxury hotel.
Article continues below advertisement
Kim sported a floppy hat over her newly blonde hair and wore a classic camel hair coat over a gray top and tights.
West often had his arm protectively around his baby mama and was all smiles, even for photographers!
After dropping off their mountains of bags, the pair headed to the offices of Givenchy where they were met by famed former French Vogue editor Carine Roitfeld who counts them both as close friends.
West appears to have left his Twitter war with Jimmy Kimmel back in Los Angeles.
Yeezy considers himself a serious fashion designer and spent spent several months living in Paris earlier this year, working on both his music and his clothing line.