'The Kate Effect' Post Baby Dress Designer Describes Boom To Business When Middleton Wears Their Frocks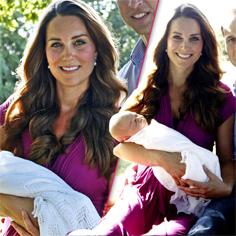 Kate Middleton is a fashion force to be reckoned with!
When she wears an off-the-rack dress it sells out instantly and the Seraphine designer of her post-baby dresses exclusively told RadarOnline.com that Kate "always looks beautiful" in their frocks and discusses the "Kate Effect" on their brand.
The Duchess of Cambridge wore a fuchsia Seraphine dress in her first photos with Prince George and Prince William and the dress sold out within two hours. The flowered Seraphine dress she wore the day after leaving the hospital promptly sold out as well.
Article continues below advertisement
Cecile Reinaud, Seraphine's designer, told RadarOnline.com that Kate looked "fabulous in our dresses."
"The Duchess of Cambridge always looks beautiful and wears clothes so elegantly, so we really couldn't have asked for a better ambassador for our brand," she said about the 31-year-old new mom.
And Kate is just like a regular person, ordering her dresses online but Cecile told RadarOnline.com that their Kensington boutique delivered them to her personally. However, Kate has been "spotted buying our Brooke dress from our concession at Peter Jones."
She said there has been a boom for her business when Kate is spotted in one of their dresses.
"Well as a maternity brand, our customers tend to be fairly transient, but The Duchess was photographed wearing our clothes several times throughout her pregnancy, so we have experienced 'the Kate Effect' before.
"The 'Kate Effect' is a very powerful force. Each time the Duchess wore one of our dresses, it would sell out almost immediately. The fuchsia Jolene dress, which she wore for the official family photograph, sold out within two hours and even caused our site to crash briefly!
Cecile told RadarOnline.com that she draws a lot of her inspiration from her native city, Paris.
"I love the timeless elegance of chic French style, and have a lot of fun experimenting with the current trends. A woman's body goes through an incredible transformation during pregnancy, so the trick to designing maternity clothes is to make sure that each garment looks and feels fantastic at every stage of pregnancy."