It's A Boy! Kate Middleton Gives Birth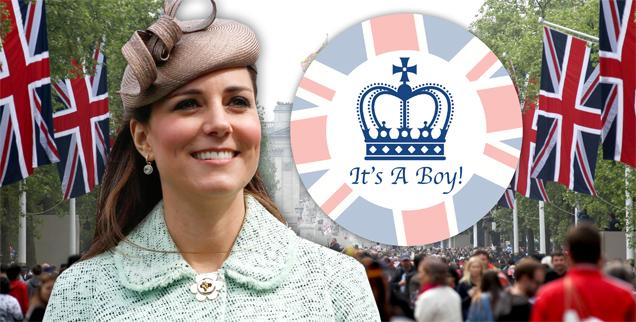 The future King has arrived! Kate Middleton and Prince William are the parents of an 8-pound, 6-ounce boy.
The little boy was born at 4:24 p.m. on July 22 and the announcement was made at 8:30 p.m. local time.
The name has not yet been announced.
Prince William was by his wife's side for the birth of their first child, and he released a statement about their joy on Monday night.
"We could not be happier," the proud papa said about their new baby, which Kate reportedly delivered via natural childbirth.
Article continues below advertisement
The Duchess of Cambridge arrived at the Lindo Wing of St. Mary's Hospital in London on July 22 with Prince William by her side. She was in the hospital for 14 hours before the birth was announced.
Kate and William and the doctors were the only people in the room when she gave birth.
The proud new parents then made personal phone calls to their family members to tell them the joyous news, calling Queen Elizabeth, Prince Charles and the Middleton family.
Prince Charles said he was very pleased with the birth of the baby, and said "grandparenthood is a unique moment in any person's life."
The Prince of Cambridge arrived about 10 hours after Kate, 31, arrived to St. Mary's Hospital just before 6 a.m. on Monday.
Kate, 31, and her husband Prince William, 31, are now the parents of the third-in-line to the throne, following after Prince Charles and William.
Article continues below advertisement
Both Princes William and Harry were born in the same hospital, and their mother Princess Diana presented the children with their father Prince Charles on the steps of the hospital days after their births.
An official press release from the palace stated: "Her Royal Highness The Duchess of Cambridge was safely delivered of a son at 4.24 p.m. The baby weighs 8 lbs. 6 oz. The Duke of Cambridge was present for the birth.
"The queen, The Duke of Edinburgh, The Prince of Wales, The Duchess of Cornwall, Prince Harry and members of both families have been informed and are delighted with the news, Her Royal Highness and her child are both doing well and will remain in hospital overnight."
The baby's name may be announced when the couple leaves the hospital, according to CNN.
A Buckingham Palace spokesman said: "The Queen and Duke of Edinburgh are delighted at the news." This is the Queen's third great-grandchild.
Earlier Monday, the palace issued a statement reading, "Her Royal Highness The Duchess of Cambridge has been admitted this morning to St. Mary's Hospital, Paddington, London in the early stages of labour.
"The Duchess traveled by car from Kensington Palace to the Lindo Wing at St. Mary's Hospital with The Duke of Cambridge."
Congratulations to William and Kate!