Exclusive
Lawsuit Evaporates… Just Like The Weight! Kardashian Sisters Score MAJOR Victory In $5M 'Quick Trim' Class Action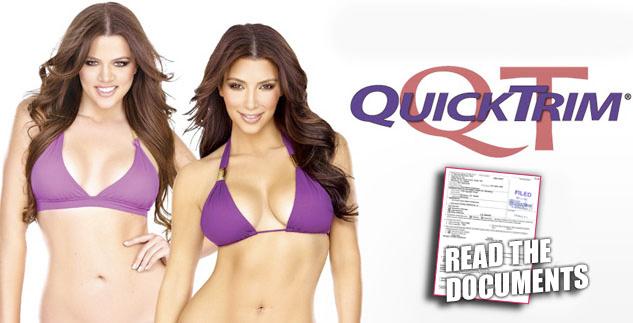 Article continues below advertisement
On Sept. 17 a federal United States Magistrate, Honorable Andrew Jay Peck, dismissed the $5 million lawsuit because a separate settlement was reached in a similar California class action case, but noted the matter could be refiled.
In a separate class action lawsuit on behalf of Teresa Anaya, filed in San Bernadino, Calif., in March 2012 against the Kardashians and QuickTrim, a settlement was reached. The California class action lawsuit is being handled by the same law firm in the New York matter.
According to terms of the settlement in which QuickTrim and the Kardashians denied any wrongdoing, customers that bought the diet pills from the company website could receive a 50 percent refund.
For customers that bought QuickTrim in a retail store, they are entitled to a 50 percent refund or a coupon that may be redeemed at a retailer for the product with a retail value equal to the purchase price of the product.
Article continues below advertisement
Furthermore, QuickTrim agreed to redesign their packaging.
"The QuickTrim parties shall redesign its labeling and packaging to restate the the nature of of its products and its benefits," the settlement docs state.
The settlement has signature lines for Kim, Kourtney and Khloe, but their John Hancock's aren't actually signed on the document.
An appeal was filed by the plaintiff in the California QuickTrim lawsuit, contesting terms of the settlement. A notice on the official Anaya class action lawsuit website says, "The Court granted final approval of the Settlement on August 14, 2013. The case has been appealed; therefore claims will continue to be processed and reviewed, but no benefits will be issued until the appeal process has ended and the effective date is established."
Lawyers for the plaintiffs in the New York case asked Magistrate Judge Peck to not dismiss the case because "A notice of appeal was filed in the Anaya action earlier today (August 26, 2013)...Due to the filing of the notice of appeal, the Anaya settlement is not final at this time, and we therefore request that the Court not take any action in this case until the appeal is resolved."
However, the judge asserted in a written statement on Sept. 3, 2013 that he didn't want the court to serve as a "parking lot for this case while the related class-action settlement is the subject of the appeal in California."
The court documents related to the New York case and obtained exclusively by RadarOnline.com reveal "on the parties consent, the case is voluntarily dismissed without prejudice and without costs. Plaintiffs may re-instate the action within two weeks if the parties are unable to agree on an appropriate tolling agreement."
The docs are dated Sept. 17, 2013.