Exclusive
Kardashian's Ex-Stepmom Drops Lawsuit -- But The War Has Just Begun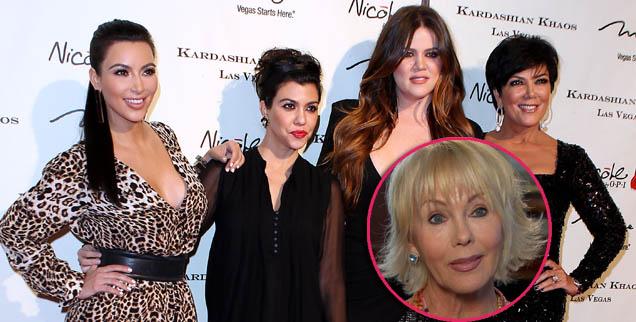 The widow of Robert Kardashian has withdrawn her counterclaim against the Kardashians, ending - for now - her bid to sue Kim, Kourtney, Khloe and Rob Kardashian -- along with their momager Kris Jenner for defamation, intentionally inflicting emotional distress, civil harassment, a civil conspiracy to defame and the public disclosure of private facts.
Despite the move, RadarOnline.com can reveal that Ellen Kardashian intends to refile her explosive lawsuit in another Californian court so that she can add new defendants to the mix -- including some Hollywood heavy hitters.
Article continues below advertisement
The Kardashian's ex-stepmom "could not get personal jurisdiction over the production companies" behind the Kardashians reality television empire -- Ryan Seacrest's Ryan Seacrest Productions, Bunim/Murray Productions and Jenner's production company, Jenner Communications -- in the United States District Court, a source revealed.
"Ellen will soon be filing her suit against a number of defendants in another court," a source with knowledge of the situation told RadarOnline.com.
As we first reported, the dueling cases might not even get to trial: The Kardashian clan has been ordered to sit down and attempt to settle the original lawsuit between them and Ellen, which alleged she had no right to sell details from their father's diaries, a journal that contained a slew of juicy allegations against Jenner, 57, including that she once beat her children.
A Magistrate in Los Angeles directed the feuding parties to confer on September 12 and to bring their lead attorneys and people who have full authority to negotiate and settle the case, according to a court filing obtained by Radar.