Exclusive
Judge Orders Kardashian Sisters & Momager Kris Jenner To Settlement Talks With Ex-Stepmom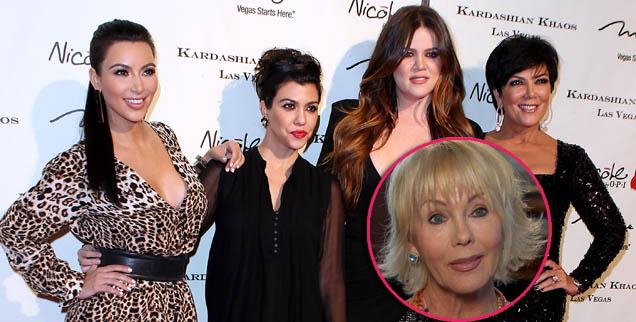 Kim, Kourtney, Khloe and Rob Kardashian -- along with their momager Kris Jenner -- have been ordered to sit down and attempt to settle a lawsuit between them and their ex-stepmom, Ellen Kardashian, RadarOnline.com has exclusively learned.
A Magistrate in Los Angeles directed the feuding parties to confer on September 12 and to bring their lead attorneys and people who have full authority to negotiate and settle the case, according to a court filing.
Article continues below advertisement
"The purpose of the Settlement Conference is to permit an informal discussion between the attorneys, parties, non-party indemnitors or insurers and the settlement judge, of every aspect of the case bearing on its settlement value," Magistrate Jacqueline Chooljian ordered on August 1.
The Kardashians and Jenner sued their father's widow in April claiming she had no right to sell details from their father's diaries, a journal that contained a slew of juicy allegations including that Jenner, 57, once beat their children.
MORE ON:
Robert Kardashian
"Kris was kicking and beating her and said she was going to kill Kim!" Robert, OJ Simpson's lawyer, allegedly wrote in his entry on August 24, 1989. "Kim was hysterical."
In a response, Ellen -- who married Robert before he died of cancer on September 30, 2003 -- sought to file her own counterclaim lawsuit against the reality television quintet, alleging them of a litany of civil offenses, including defamation, intentionally inflicting emotional distress, a civil conspiracy to defame and the public disclosure of private facts.
Magistrate Chooljian told each side to come armed to the peace talks with their claims and defenses, a summary of the case, costs incurred to date and details on what each party is seeking.