Convicted Murderer Jodi Arias' Death Penalty Hearing Postponed To October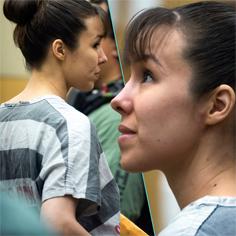 Jodi Arias has lucked out again in her fight to avoid the death penalty for killing Travis Alexander after the judge in her case has delayed her trial for another month, pushing the next hearing from September 16 to October 4.
On Friday Judge Sherry Stephens moved the hearing date forward another month, allowing Jodi Arias a reprieve from her impending retrial in the sentencing phase after a jury found her guilty of extreme cruelty and first degree murder but deadlocked over the death penalty.
Article continues below advertisement
Jodi, 34, has been in the Maricopa County Jail since 2008 where she is able to communicate with fans on the outside and continues to Tweet sarcastic notes to her thousands of followers.
Her defense attorneys, Kirk Nurmi and Jennifer Willmott, have submitted multiple motions to delay the hearing, to restrict the juror's social media access, to have them sequestered and to deny live media coverage of the trial.
They are also seeking a change in venue, arguing that the exposure of Jodi's trial in the area precludes her from receiving a fair trial.
Jodi will automatically get life in prison if the second jury is unable to reach a unanimous verdict. Judge Stephens would then decide whether she is given life without parole or life with the eligibility of parole after 25 years.