Rivers Vs. Lohan Feud Is Heating Up! Joan Slams Dina For DUI Arrest & Mug Shot, Michael Comes To Her Defense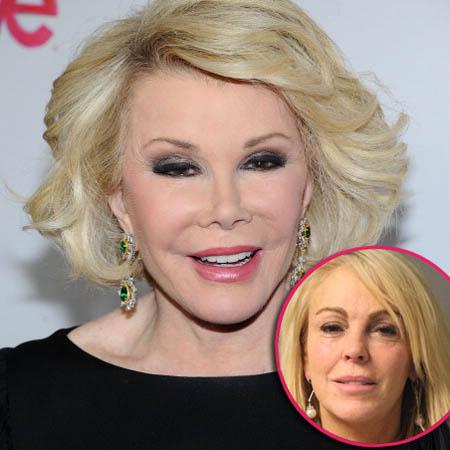 Joan Rivers has a long history of mocking Lindsay Lohan for her troubled antics and now she's set her sights on Dina, firing a shot that has her estranged ex-husband coming to her defense.
"Dina Lohan was charged with a DUI in New York last week. Has anyone in that family been photographed when it wasn't a mug shot?" the 80 year old comedienne Tweeted on Tuesday.
Lindsay's mother was arrested after allegedly having a BAC of .20 and now like her daughter and ex-husband, Michael Lohan, has her own mug shot. The Rivers/Lohan feud is hardly a new one, with Joan sending zingers about Lindsay in rehab for years, and Michael ripping into her recently about comments she made about his daughter on Fashion Police and now he's hitting back about her Dina comment. "With all the things she's done, she should've had her own mug shot (ie: Edgar). Needless to say, her family's photos look like they are out of a mortuary," he told RadarOnline.com and then Tweeted the same thing, adding: "Get off it Joan! Back off. You're no match. You mind or witt are no competition. Use a barametric chamber instead of a scalpel."
Article continues below advertisement
The two fought recently, with Michael slamming her to RadarOnline.com, saying: "People like Joan Rivers continue to take pokes at my daughter rather than look at themselves but she needs to consider the length of time of her addictions to needles (Botox) and cutting/self-mutilation (plastic surgery) which far exceed the length of most addict's addictions.
"Either she has a mortician on retainer or she is getting her formaldehyde by smoking PCP. At her rate, she won't need any embalming fluid when her times comes because she has more in her than most mortuaries have in inventory," Michael ranted.
After Joan threatened to sue him over his allegations, he continued the insults, telling RadarOnline.com: "What's the matter Joan? You can pick on everyone else and make fun of them but people can't do it with you? At least what I say has some validity and truth to it. For God sake, you look like the Catwoman and your daughter."