Exclusive
Sleeping In A Van, Hitching Rides On Freight Trains & Carving Animal Skulls For Fun -- Inside The Wild Life Of Jennifer Aniston's Secret Half Brother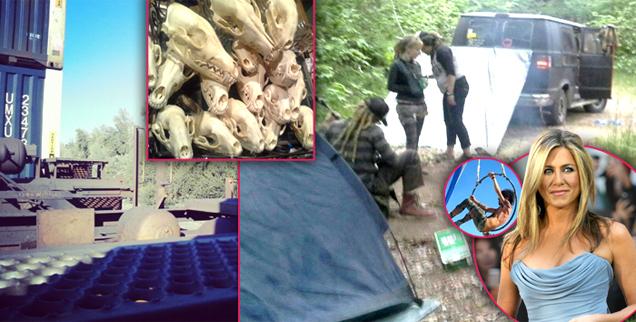 Jennifer Aniston lives in a $21 million mansion and crisscrosses the world took on private jets when she's not making big budget movies.
Meanwhile, her half-brother AJ lives in a van, rides on freight trains and carves raccoon skulls for fun -- and RadarOnline.com is learning new, unbelievable details of his wild, crazy and totally un-Hollywood life!
AJ, also known as Alex John Aniston -- and "Aja Nezitic" on social networking sites -- is the twenty-four-year-old son of Jen's dad, John Aniston, and his second wife, Shelly Rooney. He hadn't been photographed in public since 2004, but after new pics of him attending the notorious Burning Man festival surfaced in , RadarOnline.com uncovered his Instagram and Facebook pages, which paint a picture of a life that's very different than his famous sister's.
Article continues below advertisement
According to reports, AJ recently slept on a mattress in the back of a black van during a road trip between L.A. and Alaska. On May 27, he posted a pic of the van, along with some friends, a tent and cases of beer, to his Instagram page, captioning the shot "#vanlife".
But that's not his only means of transportation. Several pics taken from atop various freight trains during early January suggest he took a trip across country "freight hopping." Also known as train-hopping, it's a popular way to travel for many homeless people and adventurers.
On one shot, a friend commented, "Are you on the train yet?" and another chimed in "Is it comfy at all?"
On another picture, a friend wrote, "F*****g rad. I always dreamed of traveling cross country like that."
In between his travels, AJ purportedly devotes himself to his art, which consists of carvings on animal skulls. One picture shows a discarded skull transformed into a planter. Another carved-up piece is captioned "Racoon of tomorrow."
His other hobbies include guerrilla improv, cuddle parties and bicycling, according to his Facebook page.
And while his life may seem the exact opposite of his famous sister's, AJ would prefer to be even more removed from the glitz and glamour of Hollywood.
When asked about his famous sis, he told a reporter that the association "has been a pain on my a** for years!"