Moving On Up! Dating Jennifer Aniston Puts Fiancé Justin Theroux On A 'Different Altitude'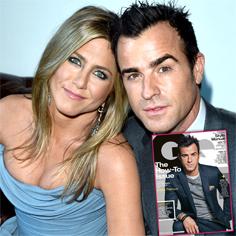 Dating Jennifer Aniston is no easy feat since she's probably one of the most famous women in the world, and her fiancé Justin Theroux admits that he's moved into a different level with their relationship.
The 42-year-old actor/director/screenwriter opened up about being engaged to the Friends star and how it changed his life in GQ's October "Style Manual" issue, including the fact that she made him get rid of his bizarre art.
Article continues below advertisement
"It's a bit like going to a slightly different altitude, you know?" he said about dating 44-year-old Jen.
The rumors about her pregnancy status are the ones that seem to bother him the most he admits, saying it's weird "when I get complimented on the street because I'm having twins."
The happy couple have moved into their $21 million home in Bel Air but Justin said Jen didn't let him bring his eclectic art collection into their house.
"I have these beautiful wax-museum pieces—handmade, from the 1800s—from a museum of curiosities. They're just these open mouths, with tongues, and in the throats are different stages, labeled, of syphilis and gonorrhea and whatever."
He paused, as if to say gonorrhea pieces were too much.
"Those definitely found a great place in my office in L.A.," Justin said.
"They weren't going to be above the fireplace anytime soon."
Article continues below advertisement
Justin and Jen have often been spotted wearing matching outfits, black tops and jeans, and ever the fashion plate, he take umbrage with a certain type of shoes in the GQ Style Manual.
"I have a real issue with the makers of Tevas. Not only should there never be Velcro on any shoe; there should not be Velcro and neoprene on a shoe. Then there definitely should not be Velcro, neoprene, and some sort of beaded Indian print. I know: They're comfortable. Lots of things are comfortable. I could put my feet in kneaded dough and walk down the street. That's comfortable, but I'm not going to do it, you know? Ridiculous."
The GQ Style Manual hits newsstands on September 24.