Exclusive
'The Wildest House In Hollywood': Jack Nicholson's Drug-Fueled Sordid Sex Parties REVEALED In New Tell-All Book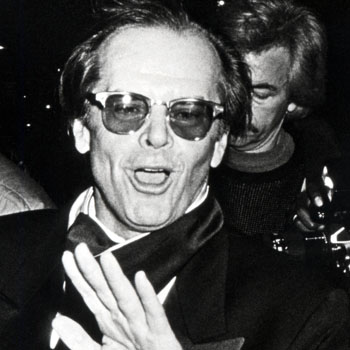 It's the end of an era in Hollywood: Jack Nicholson has retired from acting, as RadarOnline.com has reported -- and he's ready to live out the rest of his life outside of the public eye.
But just as he's set to give up his crown as the king of Hollywood playboys, a new memoir is pulling back the sheets on the sordid life he lived before.
A new memoir, Nicholson, by New York Times-bestselling author Marc Eliot, explores the wild times and drug-fueled sex parties that made Nicholson the poster boy for hard living for so many years.
Article continues below advertisement
From his first months on the scene in L.A., Jack's apartment quickly became known as "the wildest house in Hollywood," Eliot writes in the book, which was first excerpted by the National ENQUIRER.
"There was round-the-clock partying, drinks, drugs, sex, lots of tea (of the smoking kind), and beautiful, hot, willing girls who loved to get just as high as the boys and have a good time," Eliot writes. "The refrigerator never had any food in it. Just milk (for Jack's sometimes sensitive stomach), beer, and pot in the freezer to keep it fresh."
One of Jack's friends from the period, Harry Dean Stanton, claims that Jack was always riding a slight buzz and surrounded by women. "Whenever I think of Jack from that period," he says, "I always see him with a cheap red wine on his lips."
The parties at Stanton's house, however, were much more X-rated. "On weekends, Harry Dean liked to throw sex parties that started on Firday night and ended sometime Monday morning," Eliot writes. "'Orgies,' he proudly called them, that gathered the hottest starlets and all the available young men, some single and some not, who wanted to get whacked out and share beds filled with these naked, luscious, beautiful women."
Article continues below advertisement
However, Jack was more concerned with making it in Hollywood, Eliot claims, writing, "Most of the time, though, while the action was hot and heavy in the other rooms, Jack would prefer to sit alone, in his bedroom, furiously pounding out his screenplay."
Heroin Addicts, Coke Fiends & Celebrity Stoners: Hollywood Drug Dealers Tell All!
That all changed when began to climb the ranks as a leading man in Hollywood. He eventually bought his own party pad right next door to his idol, Marlon Brando, stocking the rooms with impressive artworks, thrift store furniture, and lots of drugs, Eliot says.
When police searched his home after Roman Polanski allegedly raped a teen at Jack's home in 1977, they found hashish in the upstairs master bedroom.
"Fortunately, the rest of Jack's ample stash of drugs was so well hidden," Eliot claims, "in fake shaving cream containers and the like, that the police missed it."
He also allegedly had a system of "upstairs" and "downstairs" drugs, which journalist Bob Woodward revealed in his 1984 John Belushi biography, Wired.
Article continues below advertisement
Upstairs drugs were "just for himself, the VIP stash reserved for best friends and especially beautiful women," Eliot claims, while guests downstairs made do with lower-quality party favors. The upstairs drugs, Eliot claims, often made their way onto Jack's genitalia.
"By following what he'd heard about Errol Flynn," Eliot writes, "he learned that by putting a dab on the tip of his manhood, he could last longer, and, because of the way women reacted to that, he also believed it intensified the sensations for them."
But by the late 80s, coke was on its way out of fashion for the Hollywood set, Jack included. "Jack was trying to lay off the drugs to help his increasingly tender stomach," Eliot explains.
By the 90s and into the new millennium, his only vices were cigarettes and cohibas.