Exclusive
Did Jack Nicholson's Cocaine Use Cause His Memory Problems And Early Retirement? Top Neurologist Says, 'You Don't Have To Be A Rocket Scientist!'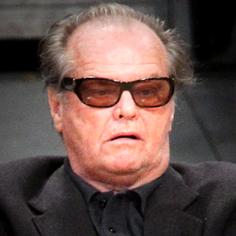 Fans were stunned earlier this month when RadarOnline.com broke the news that Jack Nicholson had retired from acting due to increasing memory loss. And while he's denied he has any problem with his "mathematician's brain," a top neurologist says it's obvious that Jack's years of partying have finally taken a toll on his mental health. Could we have had more time with him on the big screen if he hadn't been such a chronic drug user?
Article continues below advertisement
Dr. Karen Ersche of the University of Cambridge published a groundbreaking study last year that linked cocaine -- of which Nicholson was an admittedly enthusiastic user -- to brain aging.
"Cocaine use has life-changing, long-term consequences on the brain," Dr. Ersche tells RadarOnline.com. "We all age and the brain loses gray matter. But when you look at how cocaine users' brains age per year, it's twice as much as healthy people. The longer they've used it for, the worse the effects are."
Digesting complex information, multi-tasking, and basic memory skills all become difficult for cocaine users like Nicholson much earlier than their peers. Explains Dr. Ersche, "It's so consistent. That's the hard truth about drug use. The effects are much further reaching than many people believe."
Heroin Addicts, Coke Fiends & Celebrity Stoners: Hollywood Drug Dealers Tell All!
Whether someone is addicted or just a recreational user like Nicholson, "The long-term effects are the same," Dr. Ersche explains. "It's just that people who are addicted tend to do more so they may see more effects."
Article continues below advertisement
And even if someone quits, like Jack, Dr. Ersche says the damage is already done.
"The recovery is only partial," she says. "You don't ever get it back to normal. Not all the damage can be fixed."
While Dr. Ersche has never met or treated Nicholson, and insists "I can't diagnosis him," she admits that "It seems reasonable" that he could be suffering late-life memory problems because of his cocaine use. She jokes, "You don't need to be a rocket scientist to put two things together! His cocaine use has probably made the normal memory loss associated with aging worse."
"The good thing for him is that he has enough money saved up to live on," Dr. Ersche says. "Many people don't plan for the long-term consequences.