Finding 'The Lost Boys': Human Remains Found At Florida's 'House of Horrors' Reform School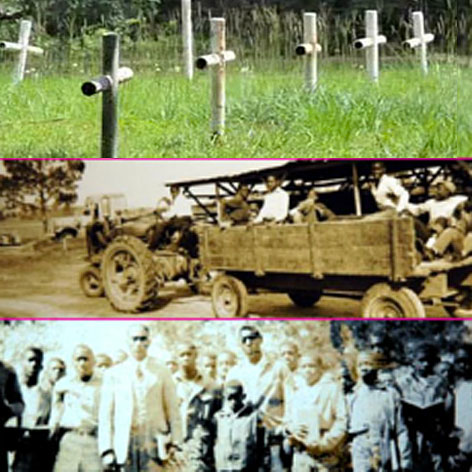 For years, former residents of a notorious Florida reform school have insisted that numerous boys had died after being physically and sexually abused there, and left buried in unmarked graves on the site.
They've finally been proven right.
On Saturday, investigators unearthed human remains at the now-shuttered Arthur G. Dozier School for Boys in Marianna, Florida.
Thirty-one students were believed buried in the school's cemetery. But survivors of what they knew as a "house of horrors" always insisted many more boys had died and were buried elsewhere on the institution's grounds.
Article continues below advertisement
In October, RadarOnline.com reported that 50 unmarked graves had been located.
On Saturday researchers from the University of South Florida announced they'd found remains of four to six burials outside of the official cemetery, known as Boot Hill, the Jackson Floridian is reporting.
The dig team will be working through Tuesday and plans to return several times for more excavations through the next year.
"I think there's at least 100 more bodies," Robert Straley, who was at the school for 10 months starting in 1963, told the Los Angeles Times.
"From 1900 to 1940 were the most brutal years in that place. Back then, a white boy's life wasn't worth much and a black boy's life wasn't worth anything."
Three years ago, Florida's Department of Law Enforcement announced that although it found dozens of graves on the Dozier School property, there was not enough evidence to pursue criminal charges related to allegations of physical and sexual abuse of boys at the school.
Article continues below advertisement
Florida shut down the school in 2011 only after the federal government began investigating abuse allegations and criticized Sunshine State officials for poor oversight and violating the rights of the inmates.
It took the anthropology team from USF to take up the cause to find and identity the missing.
One former inmate said he personally dug a grave on a section of the property different from the main cemetery, the Times reports.
"All these graves of the children and the two employees that died at the school and are buried here -- they've been quite literally lost in the woods, " Erin Kimmerle, one of the lead researchers and an associate professor of anthropology at USF said on Saturday.
Her team has determined that there were 98 deaths on the property, only 22 of which were documented.
Local authorities made securing exhumation permits a drawn-out process but state officials finally approved the request, paving the way for Saturday's dig.