Exclusive
Lovestruck Or Legal Trick? Holly Madison Marrying A Week Before Fiancés' Embezzlement Trial -- She 'Cannot Be Compelled To Testify'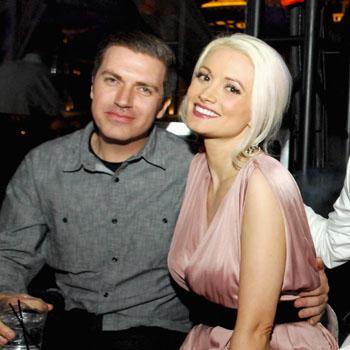 UPDATE: A lawyer for Pasquale Rotella tells Radar: "There is no trial date set in Mr. Rotella's criminal case. In fact, September 18 is the date a motion will be heard to have the criminal charges against him dismissed… We are focused on continuing to clear Mr. Rotella's good name so that he can put these politically motivated charges behind him and enjoy his beautiful and growing family."
---
Is Holly Madison rushing down the aisle to avoid a trip to the witness stand?
Article continues below advertisement
The former Playboy model has announced that she and fiancé Pasquale Rotella will marry at Disneyland on September 10 -- just nine days before he's due back in court for charges that could put him away for 13 years.
And it just so happens that under California law, a wife -- no matter how recent -- cannot be forced to testify against her spouse!
"It does seem very suspicious that they would marry on the eve of trial," Los Angeles criminal defense attorney Dana Cole, who is not involved in the case, tells RadarOnline.com exclusively. "That will definitely cancel out the ability of the prosecutor to call her as a witness."
Prosecutors have charged Rotella with 29 counts of bribery, embezzlement, conspiracy and conflict of interest.
Allegedly, he paid off city officials with $2.5 million in funds from the L.A. Memorial Coliseum, where his company, Insomniac events hosted raves. He's currently out on $1.8 million bail and faces 13 years and 8 months in prison, if convicted.
If Rotella did not marry Madison, "She could testify to his extravagant lifestyle, that kind of thing," Cole says. But it won't be happening.
"It's called marital privilege," Cole explains, and it doesn't matter how short such marriage is. "There is no timeline set out. California law is very clear that a spouse cannot be compelled to testify against another spouse."
And while the couple's maneuver seems slightly shady, Cole says there's nothing anyone can do about it.
"Whether the prosecutors are annoyed or not, trials involve a lot of steps and gamesmanships and that's what this could be," he says. "So in one sense, it's clever. In another, it's depriving the jury of valuable information. But it's all totally lawful."