From Wedding Bells To Jail Cell: Holly Madison's Fiancé Facing 13 Years In Prison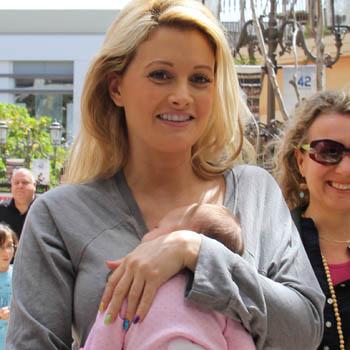 Holly Madison revealed Sunday night that she's going to wed Pasquale Rotella, the father of her daughter, Rainbow, on August 15 but just hours after the happy announcement he was in court on Monday morning facing more than 13 years in prison for bribery, embezzlement, conspiracy and conflict of interest — and RadarOnline.com has all the exclusive details.
Rotella appeared in a Los Angeles court in a pretrial conference for a case by the Los Angeles County District Attorney, which alleges that the event planner used more than $2.5 million in funds from the Los Angeles Memorial Coliseum, where he hosted raves, to pay off city officials.
Article continues below advertisement
Rotella was indicted alongside five other men involved with his company, Insomniac events. Currently out on a $1.8 million bail, he could serve up to 13 years and 8 months in prison if convicted.
The case will reconvene on July 29, just over two weeks before the couple plan to wed.
But Rotella remains confident that he'll be vindicated.
Last year his attorney, Gary Jay Kaufman, said that his client, "has always acted lawfully and appropriately with respect to all of his dealings with the Los Angeles Memorial Coliseum. Any allegations of wrongdoing on the part of Mr. Rotella by the District Attorney's office are completely baseless and flat-out wrong, both on the law and on the facts.
MORE ON:
Celebrity Justice
"All transactions between Insomniac and the Coliseum were transparent and approved by the Coliseum General Manager, his staff, and the attorneys representing the Coliseum. Any charges against Mr. Rotella are clearly politically motivated and publicity driven."
Holly doesn't seem concerned with her soon-to-be-husband's legal problems, recently telling People magazine she's planning to have a "Kardashian-sized family" with him.