'Hiccup Girl' Trial Live On Radar: Jennifer Mee Charged With First Degree Murder For Brutal Killing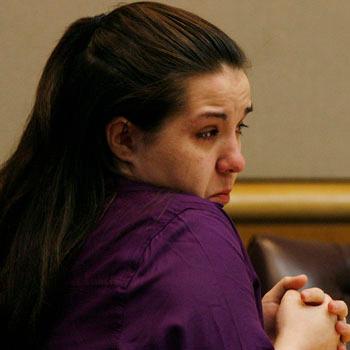 'Hiccup Girl' Jennifer Mee will return to court on Thursday where she is on trial for the first-degree murder of a man prosecutors say she lured into the home where he was shot four time and RadarOnline.com has a livestream of the proceedings.
Jennifer, 22, is charged in the 2010 of killing Shannon Griffin, 22, in St. Petersburg, Florida.
Prior to opening statements on Wednesday, her attorney, John Trevena, told the judge that she had been diagnosed with schizophrenia but a mental health evaluator determined that she was competent to stand trial.
Article continues below advertisement
Prosecutors claim that she led Griffin to a St. Petersburg home to sell him marijuana but a robbery attempt went wrong and he was shot four times.
Jennifer is not accused of firing the gun but that she played an active role in planning the robbery.
Her attorney spoke about her fame in his opening statement, telling the jury: "Ms. Mee was, at the age of 15, subject to extraordinary amount of local and national publicity because of a medical condition."
Trevena said that Griffin's death was a "crime of passion" by the two other men accused of the killing, Lamont Antonio Newton and Laron Cordale Raiford, with Raiford jealous about Griffin paying too much attention to his girlfriend, who has not been charged in the murder.
Laron Cordale Raiford, 23, was convicted of Griffin's murder and was sentenced to life in prison without the possibility of parole.
Jennifer's attorney said the two men and the girlfriend conspired to blame the crime on her because she was younger, 19 at the time of the crime, and more sympathetic to the police.
Court resumes at 9:15ET and RadarOnline.com will be livestreaming the proceedings.