Bikini Babe Hayden Panettiere Has 'Live Without Regrets' Tattoo Removed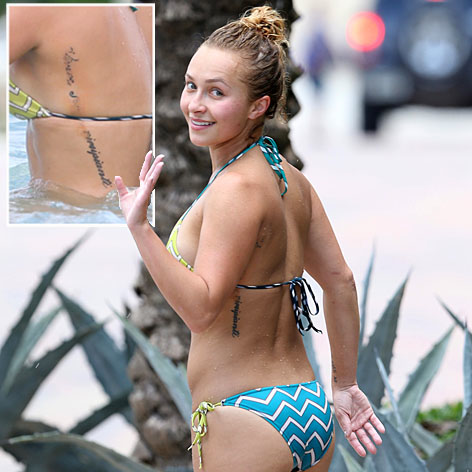 Hayden Panettiere is getting her tattoo removed--the one that, ironically, read, "Live without regrets."
The Nashville star rocked a tiny bikini on a Hollywood, Florida beach on Sunday which showed that she had started the process of having the tattoo removed with laser treatment.
Hayden's tattoo read "vivere senza rimipianti," Italian for "live without regrets." But the third word was misspelled and should have read "rimpianti."
Article continues below advertisement
The star was photographed having fun with friends over Labor day weekend in Florida, where she frolicked in the water, strolled in the sand, blew kisses at the camera, and happily flaunted her bikini body.
Although her fiance, boxer Wladimir Klitschko, was nowhere in sight, Hayden wore her engagement ring.
Hayden had told Glamour magazine she got the tattoo in her rib cage area after her dad told the actress the old saying, "Whenever one door closes, another one always opens."
Hayden explained to the magazine, "It's not that you don't regret things in life, but you at least try to learn from them. It's misspelled, too--so I literally have to live by that advice!"
But apparently, that isn't the case. The TV beauty, whose show Nashville returns for its second season on ABC on Sept. 25, had enough regrets about the body art to make it disappear!