Former RHONJ Star Danielle Staub Is On Top! Beats Out Lady Gaga & Bethenny Frankel In Ratings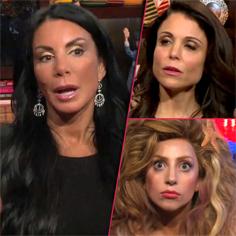 Apparently, Danielle Staub still has some ratings juice left.
The reality star, who buoyed the early seasons of the Real Housewives of New Jersey, appeared on Watch What Happens Live this week, and it was certainly a success.
Her episode out-rated what many would consider bigger stars -- Bethenny Frankel and Lady Gaga, according to Bravo.
Staub's episode, which aired Sunday, drew 794,000 viewers; in comparison, 730,000 watched Frankel's, and Gaga had just 552,000 sets of eyeballs tuned in to her appearance.
Article continues below advertisement
However, Gaga's racy appearance on Andy Cohen's show made for some genuine entertainment when the 27-year-old spilled on everything from the Housewives, to sex and drugs.
If you missed it, check out a clip here.
Watch What Happens Live airs Sunday through Thursday on Bravo at 11/10c.