Exclusive
Dr. Drew Pinsky Reveals He Is A Prostate Cancer Survivor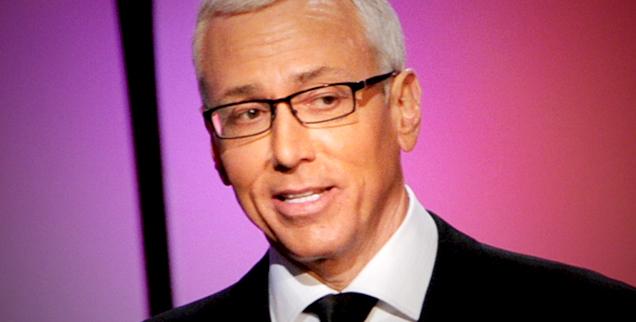 Dr. Drew Pinsky, popular television personality, and host of HLN's Dr. Drew On Call, has revealed that he was diagnosed with prostate cancer two years ago, and after undergoing surgery in July, the board certified addiction specialist is now cancer-free, RadarOnline.com is reporting.
In a very personal essay, published on HLN, Dr. Drew, 55, says, "While many of you were celebrating the Fourth of July, I was at home on my couch recovering from a radical robotic prostatectomy. Four hours of surgery had left me in great pain, without an appetite, and in need of help from my college-age son, Jordan, to get up and lie down. But I was cancer-free for the first time in at least two years."
Article continues below advertisement
He was treated at Cedars-Sinai Hospital in Los Angeles, which has a top rated prostate cancer program.
After being pressured by his wife Susan, Pinsky got a check-up, and a prostate cancer diagnosis was made after a blood test detected abnormalities.
"My doctor and I decided on a course of active surveillance, also known as "watchful waiting." It's just like it sounds. So we paid attention. The tumor was monitored over the course of more than a year. I had two more biopsies," the Celebrity Rehab host said.
The decision was made that Pinsky would have to undergo a radical prostatectomy because the tumor was growing and getting bigger.
"So I had a radical robotic prostatectomy in early July 2013. I went home and took my place on the couch the day after. But it's not a simple or easy operation. A four-armed robot, operated by a surgeon at a control panel, maneuvers inside the body as if the surgeon's hands were doing it. When I came out of the anesthesia, it felt as if someone had been messing around with my insides. Not good. Neither was what they found inside; the tumor had a "finger" on it that was millimeters from being contained. It was ready to spread, and would have, had it not been removed."
Article continues below advertisement
Pinsky goes on to say he wants to raise awareness about prostate cancer. "Why am I telling you this? I want you to hear it from me. Not from the Internet. Not from a gossip column. Not from someone who doesn't know me. And I want to make you aware. Men, you are likely to get prostate cancer. The odds are you will if you live long enough. When you do, don't freak out. You don't need to take action today. In many cases, time is on your side."
Dr. Drew will discuss his battle with cancer on his HLN show on Tuesday night.