Cher: Miley Cyrus 'Can't Dance' & 'Her Body Looked Like Hell' During VMAs Twerking Bit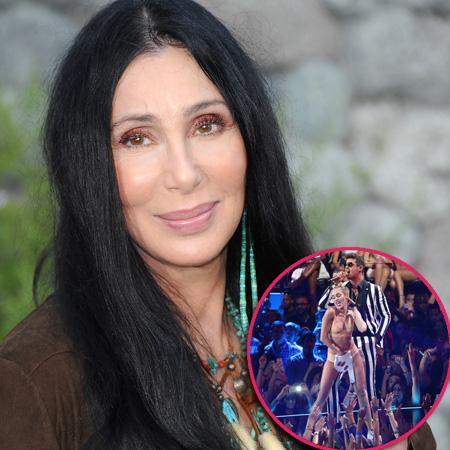 Cher was no fan of Miley Cyrus' VMAs now-famous twerking at the VMAs, taking shots at the young superstar's dance acumen, as well as her body.
"She can't dance, her body looked like hell, the song wasn't great, one cheek was hanging out," the show biz veteran, 67, told USA TODAY Wednesday. "And, chick, don't stick out your tongue if it's coated."
Qualifying her opinion by saying she's "not old-fashioned," the Believe singer said she didn't dislike the 20-year-old's bit because of the raunchiness, but rather because it "just wasn't done well.
Article continues below advertisement
"She could have come out naked, and if she'd just rocked the house, I would have said, 'You go, girl.' If you're going to go that far, then think about it before you do it."
Cher's new album, Closer to the Truth, hits stores Sept. 24.