Top Gun! Cher Says Tom Cruise Was One Of Her 'Top Five' Lovers Ever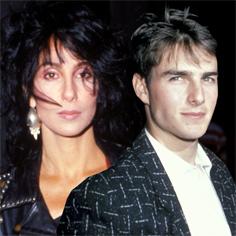 It's not the Oscar award he covets, but Tom Cruise did get recognized by one of his famous peers for his ability.
In a candid and hilarious interview, Cher told Andy Cohen on Watch What Happens Live Thursday that the Top Gun star was aces in the bedroom -- one of her five best!
And that's covering some territory -- because Cher is 67 years old.
The iconic superstar unabashedly opened up to Cohen about Cruise, who she briefly dated in the 1980s.
Article continues below advertisement
"Awww," she adoringly said about the 50-year-old actor, who she dated when he was in his early fame. "He wasn't a Scientologist then. It was pretty hot and heavy for a little minute. He's a great guy. The person that I knew was a great and lovable guy."
Cher, who admitted to Cohen that she has also slept with women, later bragged that Cruise was one of her best lovers ever.
"He was in the top five! I just had the greatest lovers ever," she gushed.