Tom Cruise's Mission Impossible: Ex-Scientology Executive Reveals How Church Tried To Convert His Former Lover Penelope Cruz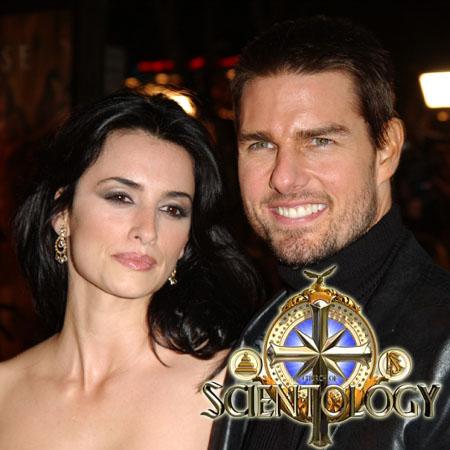 The man who helped the Church of Scientology create its' iron grip on Tom Cruise has detailed how Cruise's Vanilla Sky co-star, and ex-girlfriend, Penelope Cruz was audited by Scientology during the pair's three-year relationship.
Mark "Marty" Rathbun, who was Inspector General of the Church, spoke out in a new documentary that aired in Britain on Monday night titled Scientologists at War, detailing how Church leader David Miscavige had him personally work on a hush-hush project in the '90s -- to help the Hollywood mega-star.
Article continues below advertisement
The former high-ranking church member revealed how the controversial religious organization showered its' poster child Cruise with their services and staff to help him overcome his divorce from Nicole Kidman, and subsequent introduction to Cruz.
"Cruise started making some noises about getting some help from the Church of Scientology, and Miscavige had me drop me everything," Rathbun told the Channel 4 expose, which provided a rare insider view of the controversial religion from those who have renounced their membership.
According to Rathbun, Cruise "became number one priority" and he soon found himself catering to the Top Gun star's every emotional need -- providing the best Scientology could offer.
"I helped him on his divorce from Nicole and then I was auditing him and I was helping him get Penelope auditing," recounted the former top lieutenant. "I was helping him in all aspects of his life."
Scientologists claim the process of auditing clears negative influences in order to heighten spiritual awareness and access untapped potential.
Article continues below advertisement
Everything was designed to obligate Cruise to the Church and its' head honcho Miscavige, who would later be the actor's best man at his wedding to Katie Holmes.
"Once Miscaviage was able to hobnob with Cruise again, he was done with me," Rathbun said.
"He Miscaviage actually tried to denigrate me a little bit in Tom's eyes. I was his biggest opinion leader having salvaged his marriage, his kids, his family life -- even his career. It was crazy. Miscavige had to try and undermine me in front of Cruise."
Article continues below advertisement
Miscavige, Orth reported, referred to Cruz as "dilettante" when he discovered she wouldn't quit her religion.
According to the Church, Rathbun is "an anti-Scientologist, desperate and delusional."
It was said he was "expelled from the Church for violating Scripture" and has "a history of malfeasance."
But his claims about Cruise's leading a life in a gilded cage are consistent with other ex-Scientologists.
Amy Scobee, a former high-ranking Church executive who fulfilled various management positions -- including at the Celebrity Centre sector -- during 27 years in the Church, previously detailed how she and other influential staffers were assembled to establish Cruise's seven-bedroom, nine-bathroom $35 million home with Kidman and their children, Isabella and Connor, in Pacific Palisades, Calif.
It was finished with the best staff Scientology dollars could engage, she said.
Article continues below advertisement
"It was a confidential project that I was not allowed to discuss with any other staff member... it was being run directly by Miscavige and his wife," Scobee -- who "blew" the organization (Scientology speak for an unauthorized departure) in 2005 -- previously told this author.
"To that effect, it was a privilege: an honor to set him and Nicole up. But the clear goal was to ensure that he was set up with Scientologists only around him. Now that I am out of the Church, I have discovered that it is against the law, because the Church was using members to give him special favors. Members working for him, directly. Putting together his sound theater, cooking, various work."
As a result of the extravagance bestowed upon him, Scobee said Cruise turned over multiple facets of his life to the Church -- including, according to Rathbun, his private confessions.
"I audited a number of intensives of confessionals on Tom Cruise from July through November 2001," Rathbun, who left the Church in 2004 and is now an independent Scientologist, wrote on his popular blog three years ago. "By order of Miscavige, many of those sessions were secretly recorded by a well-concealed video camera and voice recorder system built into the VIP auditing room at Celebrity Center International."