Terrence Howard's Ex-Wife Claims He Punches Her Tooth Out -- And These Post-Fight Photos Prove It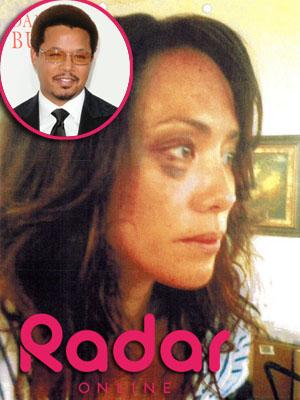 Terrence Howard's ex-wife shows off a blackened eye, bruised forehead and marks all over her body in photos submitted to a Los Angeles court Tuesday, in what was a successful attempt to obtain a restating order against the actor, and RadarOnline.com has all the details.
Michelle Ghent, in her TRO filing, claims the 44-year-old star of The Butler beat her on July 29, during what was supposed to be a romantic trip to his Mal Pais, Costa Rican vacation home, with the hopes of reviving their relationship. (They were divorced May 6.)
Article continues below advertisement
During an argument, she states in court docs, the actor began taunting her, and she responded by telling him "that he was like his father, verbally abusing me and bullying me."
Howard "immediately sucker punched her on the left side of her face," and "continued to strangle her for several seconds," in response, Ghent told the court,adding that she escaped the hostile situation using pepper spray to subdue him.
The Hustle & Flow star, in his sworn statement to the court responding to the jarring accusations, claims that his ex is maliciously trying to destroy his "reputation and career with baseless allegations."
Howard said in court docs during the Costa Rica trip, "Michelle suddenly went crazy for no apparent reason, said 'I told you not to f**k with me,' and … took out a canister of mace/pepper spray and proceeded to spray me," adding that she left the house with no injuries visible on her person.
MORE ON:
Celebrity Justice
Article continues below advertisement
DOCUMENTS: Crash Star Terrance Howard Accused Of Abusing Ex-Wife
The Iron Man star testified that the aforementioned photos are "part of her plan and scheme to destroy" his reputation, or profit off him.
He added text messages in his court statement to illustrate Ghent's unsound state of mind -- one in which she claimed she "tried committing suicide;" another, dated May 8, in which she purportedly warned him, "I know where u and ur family live. Watch yourself. U should move."
In a text message exchange Ghent submitted to the court in the wake of the incident, she tells the Crash star she's concerned about his mental state, and states he needs to be put down "once and for all."
EXCLUSIVE AUDIO: Hear Terrence Howard's Death Threat Voicemail Message
She adds that she will not stop until exposing his alleged abuse to the public, noting she had interviews with two media outlets set up to discuss the incident.
The one-time couple, who tied the knot in Jan. 2010, has a history of abuse allegations, as Ghent was granted a restraining order in 2011 following alleged violence at the actor's hands during a South African excursion. Howard said in court that year he lives "in constant fear of Michelle's endeavors to ruin my reputation."
Stay with RadarOnline.com for more on this story.