'Get Over It' Taylor: Harry Styles' One Direction Band Mate Slams Swift's F-Bomb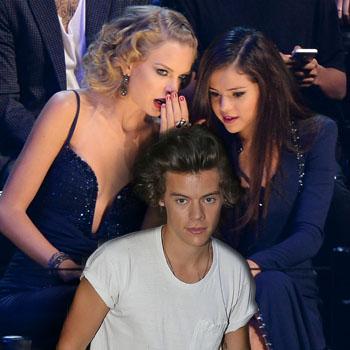 Taylor Swift should have known that by dropping the F-bomb about her ex-boyfriend Harry Styles that that was going to cause a lot of trouble.
Sitting next to Selena Gomez in the audience at the 2013 MTV VMAs on Sunday night she was caught saying "Shut the f**k up," while Harry was on stage with his One Direction bandmates.
The expletive from the wholesome Taylor was shocking, since she usually just writes a revenge song about her exes and it definitely earned the wrath of Harry's pals.
Article continues below advertisement
Liam Payne slammed Taylor to Extra, saying:
"I just thought it was a bit not needed. I mean, you just won an award, it's like, concentrate on yourself ... Hashtag get over it."
He was asked if he though her comment was "lame" and he agreed, saying: "Yeah, We were a bit confused."
Harry was a bit more magnanimous, brushing off her swearing about him by saying: "It's alright, she likes a joke. I like a joke as much as the next guy, so it's all good."
Do you think Taylor's comment was lame? Tell us in comments!