Payback! Harry Styles Aims Subtle Jab At Taylor Swift During Live Show In England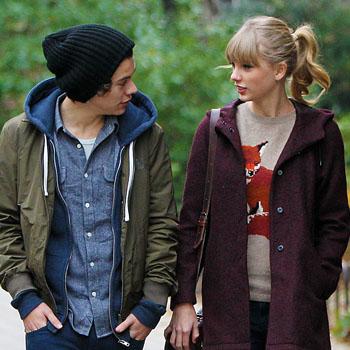 Is Harry Styles giving Taylor Swift a taste of her own medicine?
The One Direction heartthrob couldn't resist a cheeky jab at the We Are Never Ever Getting Back Together star during a live performance in Newcastle, England on Tuesday night.
The 19-year-old singer can be heard quickly mumbling Taylor's name straight after singing the words, "I'm in love with you" from 1D's hit song, Little Things.
As RadarOnline.com previously reported, Taylor, 23, took a stab at her ex in the video for her latest hit, I Knew You Were Trouble.
Article continues below advertisement
"It feels like a perfect night to dress up like hipsters, and make fun of our exes," Taylor sings in the first scene of the poppy tune.
Not so coincidentally, in the following scene she is dressed up exactly like Styles, wearing his signature olive green beanie with a white shirt.
And during her opening number at the 55th annual Grammy Awards  n Los Angeles back in February, the blonde beauty sang her signature hit We Are Never Getting Back Together, she began speaking in an over-the-top British accent, saying:
"So he calls me up and he's like 'Ah still louve you' ... and I'm like 'I'm sorry, I'm busy opening up the Grammys...and we are never getting back together!'"
Before his repost, Taylor's public slating of him had left Harry regretting ever dating the country favorite - who also poked fun at him in the promo for 22.
"Harry might have taken Taylor's swipes with an air of grace, but he now wishes he never ever dated her," a source close to Harry exclusively told Radar.
Article continues below advertisement
"I mean, the fact she's aiming a jab at him in the 22 video has got Harry wondering what's coming next! He just doesn't know what to expect.
"It wasn't the most amicable of splits, but Harry said all along that he wanted to take things slow and easy with Taylor.
"There was certainly no commitment made, despite Taylor's protestations and the fact that they were so busy with their careers and lived in different countries meant that it could never have really got that serious.
Watch the video on RadarOnline.com
"What for Harry was 'a bit of fun' at the time has slowly turned into a personal nightmare. But he won't stoop to Taylor's level, he's just going to continue to be the more grown-up person and get on with his life. Perhaps something Taylor should consider too."