One Night Only: *NSYNC Reunion At MTV VMAs Won't Be Followed By An Album Or Tour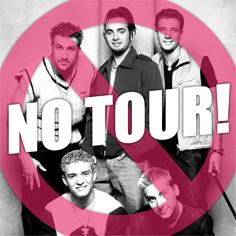 *NSYNC fans, we hope you set your DVRs.
The boy band's reunion on-stage at the MTV Video Music Awards in Brooklyn on Sunday night was their last public appearance for a very long time, at least according to band member Joey Fatone's dad, Joseph Fatone, Sr.
"People are hyping this performance as to mean like next month they'll go on tour, but there's been no talk of it," he says Radar in an exclusive interview. "I don't think they should pump this up as much as they are doing. It's not like they're going on tour."
Article continues below advertisement
"Yes there are still fanatical fans who hope for one day that *NSYNC will get back together, but the truth is that they are all doing their own thing now."
And although Justin Timberlake's post-band career has included world-wide success as an international pop icon, Fatone insists that the other band members don't harbor any resentment.
"Nobody got cheated," he says. "Just because Justin branched off on his own in that direction. "As for Joey, he hasn't even been doing anything as far as recording goes, because his focus is being a host right now." (Joey is currently the host of My Family Recipe Rocks on Livewell TV.)