Exclusive
It's Official! Joey Fatone's Dad Confirms NSYNC Reunion At MTV VMAs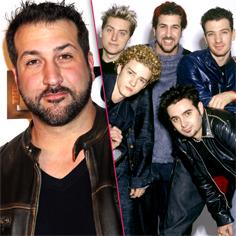 It almost seemed too good to be true. More than nine years after Justin Timberlake, Joey Fatone, Lance Bass, JC Chasez and Chris Kirkpatrick appeared in public together as *NSYNC, the Internet exploded earlier this week with rumors that the band would reunite at the MTV Video Music Awards in Brooklyn on Sunday night.
Joey denied the reports -- with a big smirk on his face -- when approached by reporters at JFK airport Thursday night.
Article continues below advertisement
But now, his father, Joseph Fatone, Sr., is spilling the beans exclusively to RadarOnline.com: Not only is the band going to reunite at the VMAs on Sunday, he claims, "They're doing a performance."
"I think it's exciting," Fatone tells RadarOnline.com exclusively, reiterating, "…they're doing a performance," as opposed to simply presenting.
Fatone confirmed that his son consulted him on the decision to reunite with his bandmates -- albeit for one night only. "I couldn't even say why he's doing it though," Fatone says. "Why, at this point in his life. Now he's his own man."
"But it's more to the fact that MTV has made them all somewhat of stars, and also made Justin a star," Fatone explains, suggesting the guys are taking this opportunity to thank the network and fans for their years of support, even after *NSYNC went on hiatus.
As for the details of what will go down, Fatone says, "I don't even know what has gone into this performance. … I plead the fifth. I would suggest that you tell all your readers and everyone on the Internet, all your social media, tell them to watch!"
Of course, plans could change over the next few days, but be sure to tune in to the VMAs on MTV this Sunday night at 8 pm to see what happens!