Exclusive
Lindsay Lohan Out With Former Sugar Daddy Who Was Arrested For Drugs, Dad Michael Says 'I Trust Her Judgment'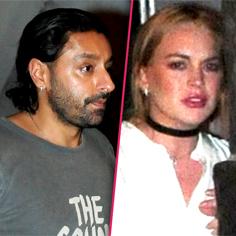 Lindsay Lohan has been laying low since leaving rehab, but when pictures surfaced of her with a man with whom she's partied in the past RadarOnline.com exclusively learned that instead of sending up a red flag with her dad, he is now supportive of their friendship.
The 27-year-old actress was spotted at ABC Kitchen in Manhattan on Tuesday night with Vikram Chatwal, her wealthy friend that was once called her sugar daddy and who was arrested in April for possession of cocaine.
Article continues below advertisement
When Vikram was arrested Lindsay's father Michael Lohan told RadarOnline.com that "he had it coming" and that he didn't want his daughter hanging out with that "sick person," but now he's changed his tune.
The Broward County clerk of courts exclusively told RadarOnline.com that Vikram was sentenced to a "minimum of 30 days," in treatment beginning on July 8 and he has completed his stay in rehab.
"I trust Lindsay's judgment," her father Michael Lohan said on Wednesday about seeing his daughter with Vikram.
"Lindsay vets everyone around her and I've spoken with Vikram, my son Michael has spoken to him and he's not going to be involved with her and drugs anymore."
A source close to the Mean Girls star told RadarOnline.com that Lindsay has shut off people that aren't a good influence on her since leaving rehab.
"Lindsay isn't letting all those people that enabled her to hang around anymore. She cut off old assistants and friend like Gavin and Patrick and is trying to stay sober without old friends around."