Leah Remini Fears Personal & Confidential Scientology Files Could Be Released: Report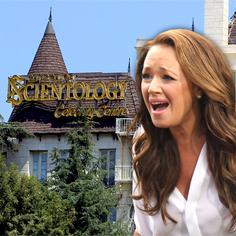 When Leah Remini left the Church of Scientology in July she also left behind nearly 37 years worth of confidential files and documents that the actress now fears could be released.
According to a new report from The Hollywood Reporter, the 43-year-old star is emotionally overwhelmed after leaving the controversial organization and because the church's policy is to disconnect completely from those no longer with Scientology and she's concerned her personal confessions during "audit" sessions may go public.
Article continues below advertisement
Former Scientology top exec Karen de la Carriere re-established contact with Leah when she left the church saying she was "brave" and "courageous" for standing up to the organization, but worries that when she left the church 2010 they used her "confessional folders" to convince her son, Heber Jentzsch, to disconnect from her — and they may do the same to Leah.
Church of Scientology spokesperson Karin Pouw denies that the church would make any such files public, telling Radar:
"The answer is unequivocally no because we do not release private and confidential information and never will. We have responded countless times to this tired, false and outrageous allegation made by a handful of obsessed self-promoters with transparent agendas.
"The Hollywood Reporter knows this, but doesn't care because it and the tabloid media are only concerned about gimmicky ways to boost Internet traffic. Sadly, it continues to give a platform to discredited sources who will say anything and shamelessly exploit the personal lives of others if it gets them media attention."
Article continues below advertisement
As Radar previously reported, Leah and her family have vowed that they won't let the Church of Scientology tear them apart.
"Leah still has family and friends in Scientology. Her husband left with her, but others have not," a source told Radar.
"But she has made a pact with certain family members not to let her departure from Scientology tear them apart. This is significant because Scientology practices 'disconnection' where ex members are shunned by those still in the church, no matter what their relationship is."
Being the most high-profile name to ever leave the church so publicly, Leah has the support of family, friends and colleagues.
Oscar-winning Crash director Paul Haggis recently said he "can't express how much" he admires the former King of Queens actress for her brave decision to defect from the church.
"Leah is an incredibly strong woman and will get through this with the help of her family and her true friends," he wrote in an open letter published byTHR.
"She is kind and generous and loyal; she has always cared more about others than herself."
Mike Rinder, former media spokesperson for Scientology told THR, "The church's hard line is that you never air your dirty laundry in public and that instead you handle it all internally.
"Leah tried to deal with her concerns and questions internally and got smashed for it."