Exclusive
Like Father, Like Son? Mason Disick 'Spitting Image' Of Baby Daddy Accuser Michael Girgenti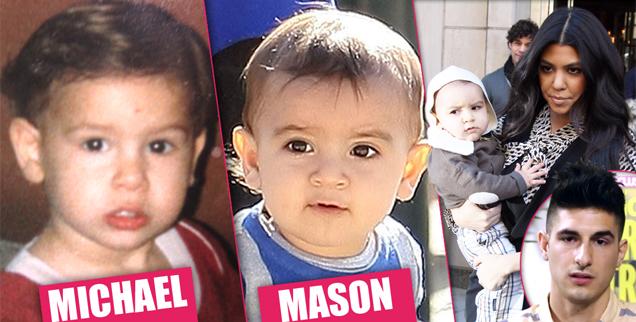 Michael Girgenti, the male model who claims he's the father of Kourtney Kardashian's son Mason, has already requested a DNA test -- but for now, he's putting things to the eye test.
Girgenti has released images of himself as a child, daring the first family of reality TV -- and the public -- to compare the "spitting image" resemblance to three-year-old Mason, who the family says is Scott Disick's son.
Article continues below advertisement
"If Mason is Scott's son, more power to him," Michael previously told Star. "But if he's mine, I need to be with him, to be a part of his life. It's been eating away at me for months."
Girgenti, who hails from from Chicago, claims the tryst with Kourtney took exactly nine months before she have birth to Mason. He dishes the dirty details to the magazine about their hour-long roll-in-the-hay in March 2009 at his Glendale, Calif. apartment, during a time Kourtney said she and Disick were on the outs.
"She was a wonderful lover and very beautiful. We didn't use any protection -- she didn't ask me about it, and I was too caught up in the moment to think about it."
The Italian-Greek stud, 23, explained how subsequently came to suspect he was Mason's papa, only to be blocked off by a wall of silence from Kamp Kourt.
"After the news broke last August that she was pregnant and I did the math, I started to think, 'That kid could very well be mine.' I've sent Kourtney e-mails over the winter, saying we need to talk about it — but she hasn't replied. Now it's to the point where I flat out just need to know if that's my son.
Article continues below advertisement
Girgenti emphasizes he's "ready and willing to take a paternity test," and claims he hopes "Scott would be man enough to do the same.
"In the end, it's all about doing right by the boy — and I would be the best father I could be if he really were mine."
Kourtney's lawyer Todd Wilson, in response, said Girgenti "has been selling false and fabricated stories to the tabloids for years about Kourtney Kardashian and her son, Mason," noting that "Scott Disick is Mason's father.
"We have not seen the reported court filing, but we are informed that this individual has been seeking to get paid to publish his ridiculous pleading," Wilson said.