Exclusive
Kardashians Accused Of Hypocrisy: Legal Team Demands They Not Be Served With Defamation Lawsuit -- Attempt To Avoid 'Embarrassment Or Inconvenience'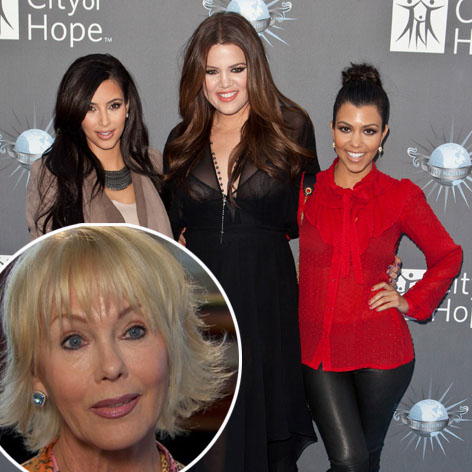 The Kardashians are being accused of rank hypocrisy after their lawyers demanded their ex-stepmom quietly have a defamation lawsuit served on their offices -- and not the reality star's personally.
The E! stars had their high-powered Hollywood attorney, Marty Singer, fire off a blistering legal letter to the attorneys representing Ellen Kardashian, obtained exclusively by RadarOnline.com, in which he threatened to file an abuse of process with a Los Angeles court if the Kardashians suffered the indignity of having paperwork served on them.
Article continues below advertisement
"Please be advised that we are authorized to accept service of that complaint on behalf of our clients," the legal pit bill wrote in a letter on Thursday.
"Accordingly, we request that you serve the complaint on our office. If you attempt to serve the complaint directly on the Kardashian Family and/or Jenner Communications, then your failure to comply with this request will subject you to a claim for abuse of process."
Article continues below advertisement
The Kardashians move has led to accusations of hypocrisy from the lawyers for Ellen who suggested to Singer that they "feel that that they should be spared the same humiliation that your clients decided would make good television when it came to our client."
The famed TV family served their own lawsuit on Ellen during a June 9 episode of Keeping Up With The Kardashians.
"There is an exceptional irony in your request that we not embarrass or inconvenience your clients by having a process server show up at their home, office or while they are presenting for public consumption and private profit for their sordid lives," Ellen's attorney, Marcus Lee, wrote in an email sent on Friday and provided to RadarOnline.com.
"The facts reveal that your clients had no problem manufacturing a lawsuit and then creating a fabricated investigation directed by "Jake the PI" and "Todd the Attorney" to serve our client in the federal lawsuit. For television ratings, your client falsely represented that Ellen Kardashian was attempting to evade personal service and then featured as part of an episode of Keeping Up With The Kardashians as, in the words of one of your clients, the 'slippery snake.'"
Article continues below advertisement
EXCLUSIVE DOCUMENT: The Response From Ellen Kardashian's Lawyer
Lee told the Kardashian's lawyer that they reserved their right to serve the Kardashians and Jenner personally.
He wrote, "We acknowledge that you are authorized to accept the summons and complaint under California Code of Civil Procedure § 416.90 which states that a 'summons may be served on a person not otherwise specified in this article by delivering a copy of the summons and of the complaint...to a person authorized by him to receive service of process.'
"This mechanism is one of several ways in which we have the option to effect service (including without limitation, personal service) and, as you know quite well, service in any other lawful manner (including personal service) does not constitute abuse of process.
Ellen was married to Robert, Kris Jenner's former husband, before he died in 2003.
As RadarOnline.com revealed, a Magistrate in Los Angeles has directed the feuding parties to settlement talks on September 12.