Exclusive
Lord Of The Jerks: Dominic Monaghan Sent Vile And Lurid Texts To 'Dumb Dumb' Who Turned Him Down For Sex -- 'You Appear Riddled With Herpes!'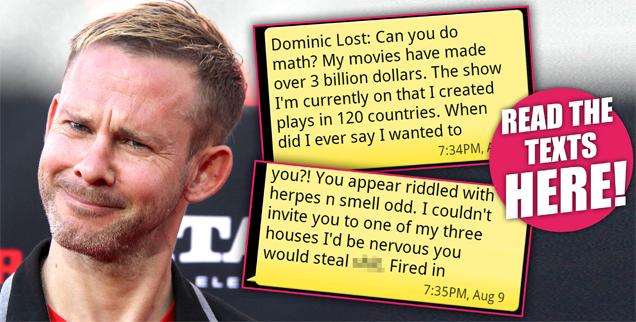 The Lord of the Rings star Dominic Monaghan doesn't subscribe to the notion of sweet-talking the ladies -- because as RadarOnline.com has uncovered -- the Hollywood star recently exchanged a series of lurid and vile text messages with a woman who turned him down for sex!
A 25-year-old, who wished to remain anonymous, has come forward to tell how she exchanged a string of steamy messages with the German-born English actor, who also played Charlie Pace on the hit television show Lost.
Article continues below advertisement
The pair's friendship began more than 12 months ago after a chance meeting at a retail store where the Los-Angeles based woman works, before, she claimed, Monaghan, 36, began inundating her cell phone with mean-spirited text messages when she "turned him down for sex."
In one exchange, a cocky Monaghan bragged that his "movies have made over 3 billion dollars" and claimed "the show I'm currently on that I created plays in 120 countries," while in another increasingly explicit message he called the woman a "ghetto tramp" and a "dumb dumb" who he described as appearing "riddled with herpes."
EXCLUSIVE AUDIO: Hear Terrence Howard's Death Threat Voicemail Message
Eventually, after the tone of the messages grew even more repulsive, the woman decided enough was enough and vowed speak out.
"I met Dominic more than a year ago when he came into the establishment I was working in at the time. He was sort of eyeballing me, so I said hi and we exchanged phone numbers," the woman told RadarOnline.com in an exclusive interview.
Article continues below advertisement
"Soon we talked about going out on a date, but he got mad when I wouldn't find my way to him. I told him the gentlemanly thing to do would be to pick me up for a date. He told me he wasn't a 'taxi service' and that I'd have to earn that with him."
The woman said that Monaghan boasted he's a famous actor, so he doesn't date, he just sleeps around.
'
"Right off the bat he just wanted sex. I wasn't really down for that, and I told him that I wouldn't just sleep with him because I'm not that kind of girl," she recalled.
"He never gave it a chance, like didn't even want to get to know me. It's sad. He told me he didn't care because I was hot."
In another sex text, Monaghan declared: "I couldn't invite you to one of my three houses I'd be nervous you would steal sh*t."
He gloated in another, "I have 20+ million in the bank. How you living?"
See below for a complete screen grab of all the messages he sent on August 9, 2013:
Article continues below advertisement
RadarOnline.com has independently verified that the texts are from the actor, who received international attention from playing Meriadoc Brandybuck in Peter Jackson's adaptation of J.R.R. Tolkien's The Lord of the Rings.
Indeed, when reached for comment, Monaghan confirmed the messages but disputed the nature of them was vile, declaring: "I wonder if you are aware that she has been calling me for over two years when I have repeatedly asked her not to… Today Monday I told her again via text that her behavior was troubling to me and for her not to contact me."
"We only talked on the phone a couple of times," the gal pal added. "Sometimes he slurred his words and sounded like he'd been drinking, but he was always trying to convince me to come over.
"He told me I should come to his house and get loosened up. He likes scotch and whiskey, so that's what he meant. But I was like, no way!"
And during the interview with RadarOnline.com, the woman reiterated she didn't want anything in return for telling her story — she just wanted the world to know how Monaghan had treated her.
"People need to know that he's not the nice guy he appears to be. He's trash," she told RadarOnline.com.
"Just because he's a celebrity doesn't give him the right to treat women that way. He just can't treat people like that."