'Here's Your Pizza, Go F**k Yourself!': Infamous Amy's Baking Company Profiting Off 'Kitchen Nightmares' Fame With New Line Of Profanity-Filled Merchandise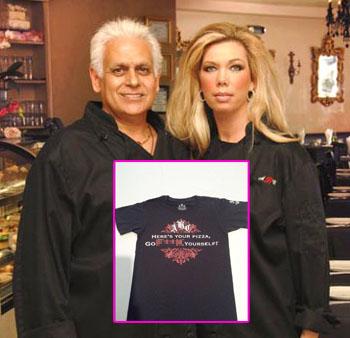 Article continues below advertisement
"Here's your pizza, go f**k yourself," one tee-shirt offered on their website reads, in a nod to one of Samy's meltdowns on the show.
It's also available on a baseball hat. Crazy cat lady Amy gets her own tee too, which reads "I Speak Feline MEOW!" Another tee and hat reads, "I'm the gangster!" in reference to one of Samy's televised threats to the show's host, Gordon Ramsay. Rounding out the bunch is perhaps the best pick of the lot, a tee that reads, "I Survived Amy's Baking Company." All tees cost $30 and hats are $25.
"We're making cherry lemonade out of lemons," Amy explained. "Never in my life would I have thought the show would launch us into this kind of stratosphere."
Would you rock an item from their line? Or is this yet another one of the couple's bad business decisions? Let us know in the comments!