Exclusive
Teresa Giudice's Ex Co-Star Says 'I Knew She Had Cookbooks But Didn't Know She Was Cooking The Books'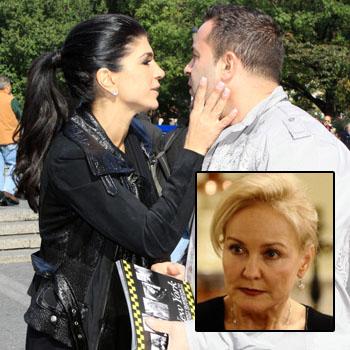 Article continues below advertisement
Kim G, who gained fame for her sparring with the ladies on the show in seasons two and three , was gloating over Teresa's legal woes, and offered her up some advice if she ends up behind bars.
"Make sure you stock up on toilet paper because in prison you only get one roll a week," Kim warned Teresa via Celebrity Magnet Tom Murro.
Kim scolded the Giudice's for their alleged crimes.
"Teresa and Joe are getting what they deserve if you have 39 count against you obviously knew you were breaking the law."
Kim G, who loves to flaunt her own wealth, slammed the reality show stars.
"I guess their scamming days are over now Teresa has to lead a real life."
Kim says that she has been waiting for this day to come for a long time for her Franklin Lakes neighbor.
"I knew from the day I met her that she was a fraud...living in that horrendous broken down house by the highway, near swamp land in high tension wires with a bad addition."
Article continues below advertisement
Kim also laughed when talking about Teresa's culinary empire.
"I knew that she had cookbooks, but I didn't know she was actually cooking the books!
"Look for Teresa's new cookbook from cell block 8 called 'Hidden Recipes.'"
Kim G said she plans to attend the trial if it happens.
"I'm picking out my outfit for Teresa's court date will be wearing my diamonds and Birkin bag as I drive my Bentley there that no one will ever take from me.
"Every dog has their day and today is Teresa woof...woof."