Exclusive
Skylar Neese Murder: 7 Shocking Details About The Teen's Death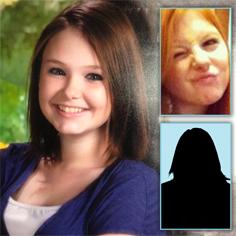 When Skylar Neese was found brutally murdered it quickly became public that one of her best friends confessed to the murder, another has been charged but her parents Dave and Mary Neese are still searching for answers about their daughter's death.
Just 16-years-old when she was killed in July 2012, Skylar was a high school student who snuck out of her bedroom window to hang out with her two best friends and was never seen again.
Article continues below advertisement
From her father wanting her murderers to "rot in hell" to details from one of the killer's plea bargain deal, RadarOnline.com has a list of seven details about the shocking and vicious murder of Skylar Neese:
1. One of the murderers failed a lie detector test. Skylar's mother Mary Neese was very frustrated with the authorities and how long it took for the girls who were ultimately found responsible for her daughter's death to be held responsible. In December 2012 Mary wrote a pleading note on her Facebook page where she said that she no longer believed the story of the two girls who were with her daughter that last night. Mary wrote "The supposed bestest friend of Skylar's has failed her lie detector test." She also wrote that the girls had been "offered immunity and still refuse to cooperate" with the police.
2. Even though she's a minor, Rachel Shoaf was charged as an adult and pleaded guilty to the second-degree felony murder of Skylar, one of her best friends. The plea deal documents state that she must "offer truthful and forthright testimony in any subsequent proceeding. The documents also state that Rachel will request that she be sentenced as a juvenile and that the State will "oppose any such request." The documents state that the State will "recommend a sentence of 20 years of incarceration." There is a possibility that the judge could ignore the State's recommendation and sentence Rachel for up to 40 years.
Article continues below advertisement
3. Only one murderer has been named but Skylar's parents know the identity of both girls who killed their daughter. The second girl has been arrested but her identity has not been confirmed because she has not yet been charged as an adult. Dave Neese, Skylar's father, said knowing how close his daughter was to the two girls who killed her is heartbreaking.
4. The second girl was arrested at the Cracker Barrel, which RadarOnline.com exclusively confirmed. She had been under 24-hour a day/7-days a week surveillance for the previous four months and when Rachel Shoaf agreed to her plea deal on May 1, 2013 the authorities arrested the second girl.
5. Skylar's body was found 30 miles away from her home, not in Morgantown, West Virginia but in rural Pennsylvania. Rachel told authorities that they were unable to bury her body so they covered her with branches. The site Newsball.com says that Skylar's body was found on a private road that was in the family of one of the killers.
6. Skylar's parents had to threaten to protest at Greene County, Pennsylvania Coroner's office to get their daughter's body back for burial in June. The prosecutor from West Virginia agreed to intervene on behalf of Skylar's parents and provide the documentation to the coroner to release Skylar's body to the West Virginia State Police.
7. Skylar's father Dave Neese told Anderson Cooper that he wanted to tell the girls who killed his beloved daughter to: "Rot in hell, how's that? Because that's exactly what I want them to do. I want them to go through the pain and agony my daughter went through. I want them to have no life because Skylar doesn't have one."