Sexy Russian Spy Anna Chapman Proposes To NSA Leaker Edward Snowden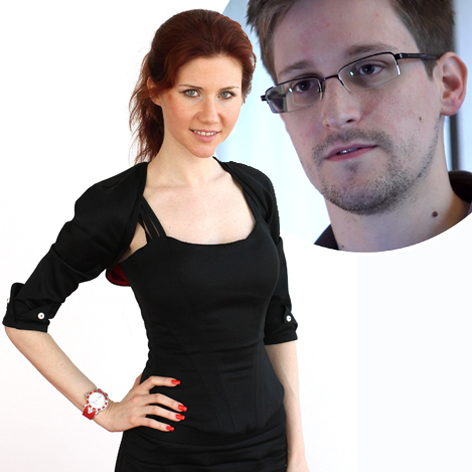 You can't make this stuff up!
Anna Chapman, the sexy Russian spy who was departed from the U.S. in 2010, has proposed to Edward Snowden, the NSA leaker wanted by the Feds!
"Snowden, will you marry me?!" she's tweeted.
Chapman claimed to have had a number of high profile American lovers and also posed for a series of nude pics that were published in Playboy after she pleaded guilty to espionage charges and was booted back to Russia.
Article continues below advertisement
And that's where Snowden is currently stuck. He's been charged with espionage and theft of government property after leaking highly sensitive NSA documents and fleeing the country.
He's currently in limbo at the Moscow Airport while he tries to find a country to take him in. Three South American nations have put out the welcome mat in the last 24 hours but without a valid passport -- the U.S. has yanked his -- it is unclear how he'll get on a plane.
Chapman seems unconcerned, and has it all figured out. She smugly asked the NSA to "look after our children."