Princess Diana Was 'Madly In Love' With Pakistani Doctor, Wanted A Daughter With Him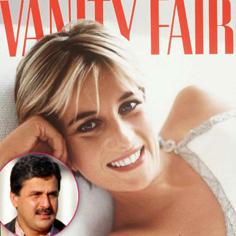 Princess Diana would have been a grandmother last week, after her son Prince William's wife Kate Middleton gave birth to baby George, Prince of Cambridge, but she secretly longed for a daughter with a man with whom she dated before her death and was "madly in love" with.
The man is Hasnat Khan, a Pakistani doctor, and their two year relationship is detailed in a new Vanity Fair article that reveals that the princess wanted more children with him and even hoped to marry him some day.
Article continues below advertisement
"Everyone sells me out," Diana reportedly told a friend in 1997. "Hasnat is the one person who will never sell me out."
They met in 1995 and their torrid affair began, but outside of the public eye.
"I think I've met my Mr. Wonderful," Diana told her energy healer, Simone Simmons.
After her death Khan spoke to the authorities and said she not an untouchable celebrity.
"I found Diana very down to earth, and she made everyone feel at ease."
The princess was so in love with Hasnat that she told friends she wanted to have a daughter with him and even asked her bodyguard to help find someone who could discreetly marry them, but the doctor became furious when he learned of her plans.
"Do you honestly think you can just bring a priest here and get married?" he said. He told the police he thought it was a "ridiculous idea."
A friend of Diana's said she was smitten with him.
"Diana was madly in love with Hasnat Khan and wanted to marry him," Jemima Khan said about the Princess' feelings for the doctor, but he told authorities that they could not live together in England.
"I told her the only way I could see us having a vaguely normal life together would be if we went to Pakistan, as the press don't bother you there," and Diana apparently strongly considered the idea.
Tragically, Princess Diana passed away following a car accident in Paris in August, 1997.